Tommy Vitaly «Just Me» (2010)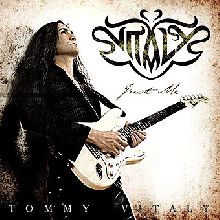 Autore:
Dust

»
Recensione Pubblicata il:
--
Visualizzazioni:
1800
Band:
Tommy Vitaly




Titolo:
Just Me
Nazione:
Italia
Formazione:
Tommy Vitaly:: Guitar
Thomas Vikström:: Vocals
Rhino:: Drums
David Shankle:: Guitars
Andrea Torricini:: Bass
Vitalij Kuprij:: Keyboards
Giuseppe Iampieri:: Keyboards
Genere:
Durata:
36' 56"
Formato:
CD
Data di Uscita:
2010
Etichetta:
Distribuzione:
---
Agenzia di Promozione:
---
Recensione
Dopo un fortunato lavoro con i Seven Gates, il chitarrista della band toscana, Tommy Vitaly, intraprende un progetto solista, portando alla luce "Just me", il primo full length che ha veramente tanto da offrire. Sebbene gli album di questo genere non abbiano mai rappresentato il mio genere di ascolti preferito, già dall'introduzione si riesce a capire che non abbiamo a che fare con il solito mix di tecnica e shredding abbastanza fine a se stesso, al contrario, si capisce immediatamente che è un disco carico di emozioni e sfumature estremamente varie; ma andiamo con ordine.
Gli elementi principali di "Just me" sono sicuramente le varie sfaccettature di Metal che, ad una ad una, sfilano elegantemente nei brani della play list: l'ottimo lavoro con i Seven Gates si ritrova subito in "Fly high, touch the sky" vista la composizione power metal; non è solo uno sfoggio di tecnica, a mio avviso invidiabile, viste le numerosissime contaminazioni neo-classiche nel pezzo stesso. Queste sonorità vengono quasi immediatamente stravolte nei brani successivi in stile, armonizzazioni e arrangiamenti perdendo completamente la componente vocale, è qui che emergono le qualità di compositore e chitarrista, infatti si mette in luce l'aspetto più prettamente solista dell'album. Ogni brano propone fraseggi molto ricercati e dinamici veramente di ottima fattura, alternando spunti e sonorità abbastanza tipici a parti in puro stile neo-classico.
Non mancano pezzi molto più Rock, in testa a tutte "Storm of fire", in cui la componente tecnica da parte della band forse si abbassa leggermente a vantaggio di un ottimo groove e tiro complessivo.
Come già detto, questo lavoro non è solo tecnica e velocità, a testimoniarlo ci sono numerosi intermezzi strumentali di piano e tastiera, in particolare una meravigliosa intro resa ancor più interessante da una seconda versione più orchestrale, che regalano momenti di vero piacere per i sensi, in più, il brano "Passion", secondo me la migliore di tutti, mette in evidenza il lato più profondo del cd essendo infatti estremamente carico sentimenti e, allo stesso tempo, di energia.
E' anche il caso di sottolineare la formazione della "band" che ha partecipato alla realizzazione di "Just me", infatti, Tommy può vantare la collaborazione di alcuni tra i migliori musicisti del panorama Metal italiano e non solo:
Rhino e David Shankle, entrambi ex Manowar e Andrea Torricini dei Vision Divine tra tutti.
Anche la qualità audio e dell'artwork è veramente di altissimo livello, come del resto l'intera produzione del lavoro: l'unico neo a mio avviso è una cassa di batteria leggermente troppo carica di bassi che ogni tanto riempie troppo le ritmiche di doppio pedale, assai usate in molti pezzi, ma non per questo la qualità scende di livello.
Che dire, l'indiscutibile tecnica e grande personalità, uniti ad un invidiabile line up, rendono il suo lavoro un must per gli appassionati del genere e non solo.
Track by Track
Just Me

80

The Raven Attack

80

Fly High, Touch the Sky

85

Air (theme by J.S. Bach)

75

Storm of Fire

85

Passion

85

Ready to Die

75

Finally Free

80

The Fury

75

Eternal

80

Just Me (orchestral version)

80
Giudizio Confezione
Qualità Audio:

85

Qualità Artwork:

75

Originalità:

80

Tecnica:

95
Recensione di
Dust

»
pubblicata il --. Articolo letto
1800
volte.
Articoli Correlati