Holy Martyr «Hail to Hellas» (2004)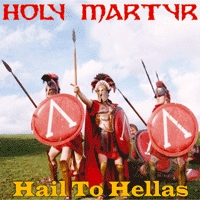 Autore:
Bardo

»
Recensione Pubblicata il:
--
Visualizzazioni:
3392
Band:
Holy Martyr




Titolo:
Hail to Hellas
Nazione:
Italia
Formazione:
Alex Mereu: vocals
Carlo Olla: guitars
Ivano Spiga: guitars
Giacomo Macis: drums
Andrea Mucelli: bass
Genere:
Durata:
30' 15"
Formato:
Data di Uscita:
2004
Etichetta:
Distribuzione:
---
Agenzia di Promozione:
---
Recensione
"Va' o passeggero, narra a Sparta che noi qui morimmo in obbedienza alle sue leggi". Questo epitaffio inciso sul monumento a Re Loenida di Sparta, al Passo delle Termopili in Grecia, ci ricorda il sacrificio di 300 corraggiosi guerrieri Spartani che nel 480 a.C. sacrificarono la loro vita per rallentare l'avanzata del temibile esercito Persiano guidato da Serse, figlio di Dario, Re dei Re di Persia. Gli Spartani combatterono con rabbia, disperazione e coraggio, con le aste delle lance ormai spezzate, pugni e calci lasciando sul campo di battaglia più di ventimila cadaveri Persiani, compresi due fratelli di Re Serse. Alla fine si ritirarono sul colle che sovrasta le Termopili per proteggere il corpo del loro Re caduto e furono finiti dalle frecce.
Cinque altrettanto coraggiosi ragazzi Sardi ci narrano oggi le gesta di Re Leonida con un prodotto sincero e pieno di passione. Conoscevamo già gli Holy Martyr per l'ottimo speed/epic di Hatred e Warlust, questo prodotto è decisamente diverso, più epico, più d'atmosfera, più maturo. La prima cosa che notiamo sono i suoni molto crudi, scelta coraggiosa che ci riporta indietro nel tempo di una ventina d'anni e ci fa vagamente ricordare i mitici Cirith Ungol e Brocas Helm. La il CD si apre con una malinconica "The Call To Arms", a mio avviso il più bel pezzo degli Holy Martyr, un brano molto d'atmosfera, con un finale stupendo dove la drammaticità del sacrificio chiesto da Re Leonida ai suoi Spartani si trasforma in una marcia senza paura verso la morte e la gloria. Fantastica. La seconda traccia è strumentale, la straziante Molon Labe, due parole incise nel cuore di ogni guerriero da quasi 2500 anni ad oggi: quando l'immenso esercito Persiano chiese agli Spartani di consegnare le armi, Leonida rispose: "Molon Labe", venite a prenderle! I successivi due pezzi son la spina dorsale di questo lavoro: "Defender In The Name Of Hellas" e "The Lion Of Sparta". La prima narra degli eroi spartani che combattono al passo delle Termopili. Battaglia magistralmente interpretata dal quintetto sardo, dapprima la disperazione per una morte certa che si trasforma in una marcia verso la vittoria e infine in una sfrenata disperata rabbiosa furia berserk. "The Lion Of Sparta" è una canzone un po' particolare, la più dura da digerire sotto certi aspetti, forse a causa della lunghezza o della diversità delle varie parti all'interno della canzone… è l'unico pezzo che non mi è rimasto in testa dopo i primi ascolti. Lo splendido lavoro degli Holy Martyr si conclude con una strumentale Ta Deilina, pezzo popolare greco, riproposto magnificamente dai ragazzi sardi. Per i primi 100 fortunati che han acquistato questo lavoro abbiamo, oltre la mitica maglietta, la bonus track "From The North Comes The War" pezzo heavy scritto una decina di anni fa dal chitarrista Ivano, quando la band cagliaritana si chiama Hell Forge, con Roberto Frau al basso e Daniele Ferru alla batteria… oltre al consueto Ivano che qui si cimenta con ottimi risultati anche nel ruolo di cantante.
In definitiva un ottimo lavoro per gli appassionati del genere ma che sicuramente farà storcere il naso a molti altri. Gli Holy Martyr o li odi o li ami… ma di certo, in ogni caso, vanno supportati per il loro coraggio e per la passione che mettono in tutto quello che fanno. Questo disco è madido di sudore. E per questo è fantastico.
Track by Track
The Call to Arms

90

Molon Labe

80

Defender in the Name of Hellas

85

The Lion of Sparta

75

Ta Deilina

90

From the North Comes the War

85
Giudizio Confezione
Qualità Audio:

85

Qualità Artwork:

85

Originalità:

85

Tecnica:

70
Recensione di
Bardo

»
pubblicata il --. Articolo letto
3392
volte.
Articoli Correlati