NWOIBM: "New Wave of Italian Black Metal - Volume 3''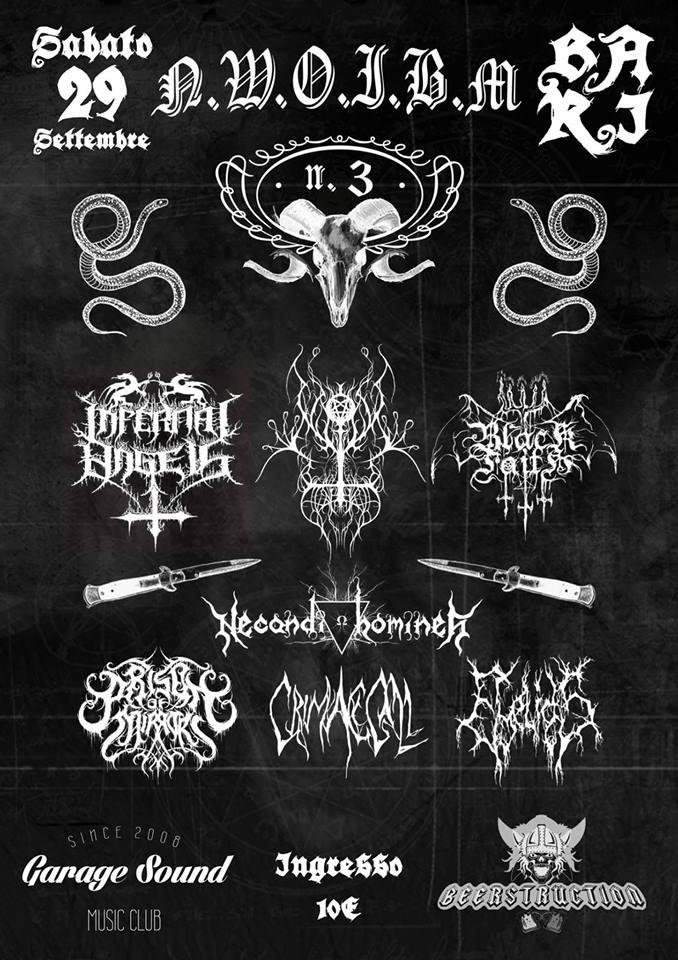 NWOIBM - New Wave Of Italian Black Metal
NWOIBM in collaborazione con Beerstruction presentano:
''new wave of Italian black metal - volume 3''
Ebbene sì anche quest'anno torna l'evento ''NWOIBM'' e finalmente fa tappa al sud Italia, nella splendida cornice di Bari. Anche quest'anno ci saranno band di altissimo livello e lo spettacolo non mancherà di certo, il locale è il ''garagesound'' locale abbastanza rinomato e molto accogliente.
Quindi vi aspettiamo numerosi e come sempre il nostro motto non deve mai mancare: NGUL A CRIST SEMB!!
LE BAND:
EYELIDS - DEPRESSIVE BLACK METAL (MATERA)
NECANDI HOMINES - EXPERIMENTAL BLACK METAL (JESI)
GRIMACE GALL - DEATH/BLACK/DOOM (ROMA)
PRISON OF MIRRORS - OCCULT BLACK DOOM (SALERNO)
BLACK FAITH - BLACK METAL (PESCARA)
INFERNAL ANGELS - BLACK/DEATH METAL (ANCONA)
AD NOCTEM FUNERIIS - BLACK METAL (BARI)
GLI ORARI
20.00 - 20:35 Eyelids
20:45 - 21:20 Necandi Homines
21:30 - 22:05 Grimace Gall
22:15 - 22:50 Prison Of Mirrors
23.00 - 23:35 Black Faith
23:45 - 00:25 Infernal Angels
00:35 - 01:15 Ad Noctem Funeriis
INGRESSO: 10 EURO Con tessera.
LOCATION: ''Garagesound music club'' - Via Mauro Amoruso Manzari 6 - Bari.
Inserita da:
Jerico
il 11.09.2018 - Letture:
1514
Articoli Correlati
Altre News di MetalWave
Notizia Precedente
Notizia Successiva