METAL INPALA NEVER DIES: festival gratuito con ULVEDHARR, MEMBRANCE e altri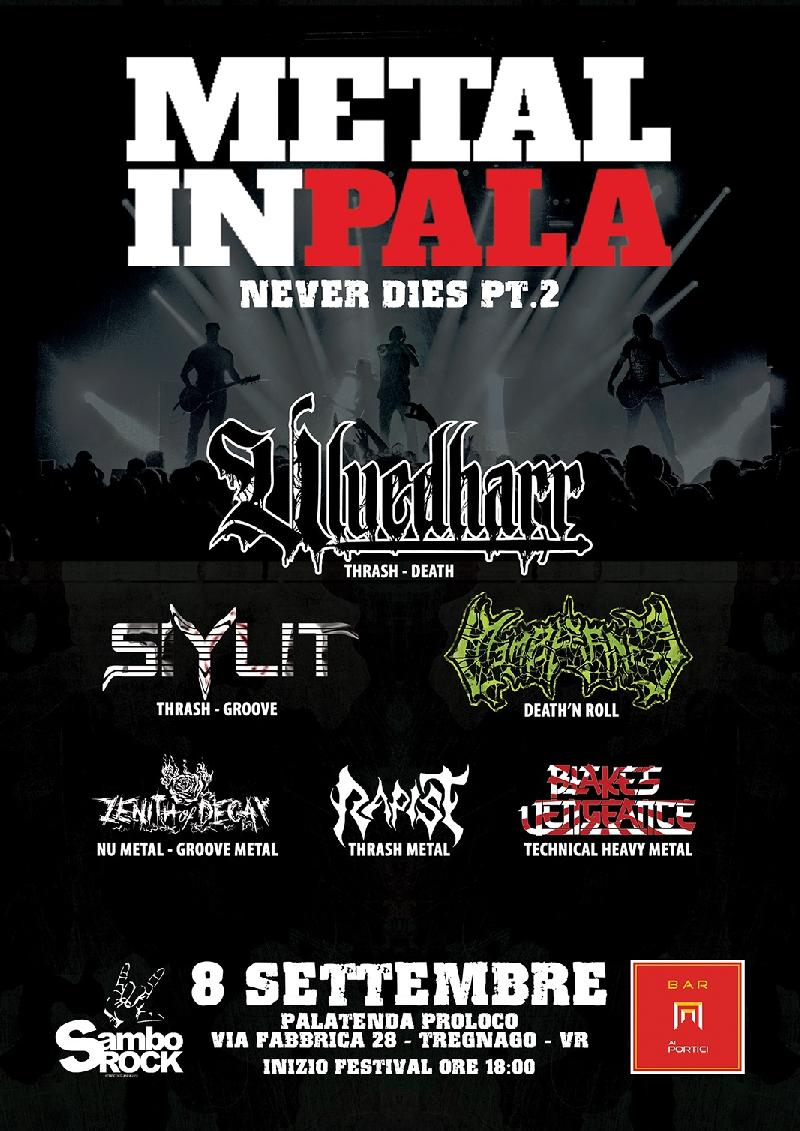 Torna il Metal INpala Never Dies, festival ad ingresso gratuito giunto alla sua seconda edizione che si terrà presso il Palatenda di Tregnago (VR) sabato 8 Settembre 2018. A capo di un bill di tutto rispetto, una delle band che più si sta facendo notare nel panorama metal italiano: gli ULVEDHARR! Il combo bergamasco è attualmente impegnato nelle date a supporto del loro ultimo lavoro "Total War", edito da Scarlet Records.
Con loro si esibiranno: SIYLIT (thrash-groove da Verona), MEMBRANCE (Death'n Roll da Venezia), RAPIST (thrash metal da Padova), BLAKE'S VENGEANCE (technical heavy metal, da Milano) e ad aprire il festival gli emergenti ZENITH OF DECAY (nu metal/groove metal, da Verona)
Per tutta la serata e dopo la conclusione degli show sarà presente il Dj Set Metal con Jackie Lace.
Oltre al merchandise ufficiale delle band saranno presenti vari stand di CD, t-shirt, gadget e molto altro!
Sabato 8 Settembre 2018
Metal INpala never dies
ULVEDHARR, SIYLIT, MEMBRANCE, RAPIST, BLAKE'S VENGEANCE, ZENITH OF DECAY
Palatenda Proloco
Via Fabbrica, 38 – Tregnago (VR)
L'evento di terrà anche in caso di maltempo.
Evento Fb:
https://www.facebook.com/events/2084622755136164/
Inizio concerti: ore 18.00
INGRESSO GRATUITO
Info:
Samborock
https://samborock.it
In Collaborazione Con:
Metal In Factory
http://www.facebook.com/metalinfactory/
Bar ai Portici Tregnago
Inserita da:
Jerico
il 07.09.2018 - Letture:
717
Articoli Correlati
Altre News di MetalWave