ACCIAIO ITALIANO FESTIVAL 2017: questo sabato a Bologna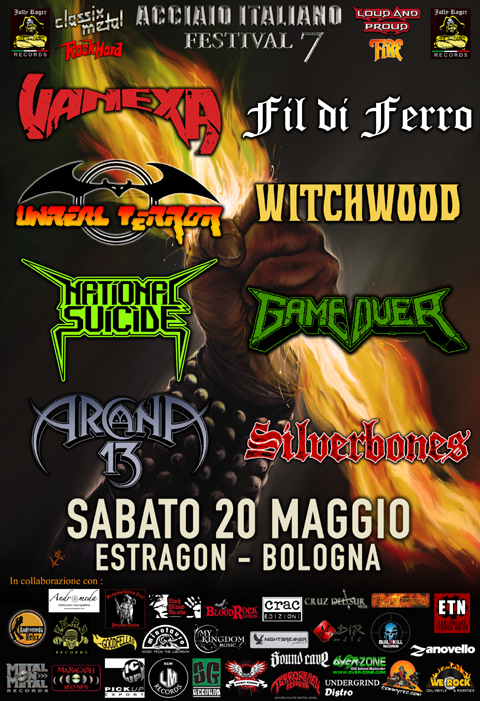 Ormai ci siamo, questo sabato ritorna l'appuntamento annuale con Acciaio Italiano Festival, dedicato alle migliori bands Hard ed Heavy underground Italiane e giunto all' importante e prestigioso traguardo della settima edizione!
Jolly Roger Records in collaborazione con Classix Metal, Loud and Proud, Rock Hard e Fire Magazine presenta Acciaio Italiano Festival 7 che avra' luogo Sabato 20 Maggio presso il prestigioso Estragon di Bologna.
Questa la bill:
VANEXA
FIL DI FERRO
(con ritorno live alla chitarra del chitarrista Miki Fiorito, con la band dal secondo album "Fil di Ferro" del 1988)
UNREAL TERROR
(presenteranno brani dal nuovo album, in uscita prossimamente e la biografia "Rules the Night" edita da Crac Edizioni)
WITCHWOOD
NATIONAL SUICIDE
GAME OVER
ARCANA 13
SILVERBONES
Sara' presente un vero e proprio Metal Market con stands di Lp, Cd, memorabilia ed il merchandise delle bands partecipanti.
Apertura porte ore: 16:00
Inizio concerti ore: 16:30 - Fine concerti ore: 0:00
INGRESSO: in cassa 13,00 € / prevendita 13,00 € (+1,50 €) qui.
Senza l'obbligo di effettuare alcuna tessera - sara' possibile uscire e rientrare liberamente.
Ai primi 50 ingressi verra' consegnato un box gratuito griffato "Acciaio Italiano" con buoni sconto, moschettoni e stickers gentilmente offerti da EMP Mailorder.
A questo link la pagina evento Facebook
Grazie mille a chiunque voglia condividere, diffondere e supportare l'evento, a chi ci ha sempre seguito e a chi sara' presente per la prima volta, sara' una festa! Ci vediamo sabato 20 Maggio!
Si ringraziano sentitamente i seguenti sponsors che hanno aderito all' iniziativa:
Andrea B. (Presente con il proprio stand)
Andromeda Distribuzioni Discografiche - Mailorder
Andromeda Relix (Presente con proprio stand)
BLACK WIDOW RECORDS (Presente con il proprio stand)
Blasphemous Art Records
BloodRock Records (Presente con il proprio stand)
crac edizioni
Cruz Del Sur Music
Dragonheart Records
Earthquake terror noise
FOAD Records
Goodfellas
L.M. Records
Ma.Ra.Cash records
Minotauro Records (Presente con il proprio stand)
Metal Factory
Metal On Metal Records
My Kingdom Music
NadirMusic Genova / Built 2 Kill Records
Nicola B. (Presente con il proprio stand)
Nightbreaker Productions
Origadget02 (Presente con il proprio stand)
Over-Zone
Pick Up Distribuzione
Scarlet Records (Presente con il proprio stand)
SG Records
Sound Cave
Terror From Hell Records
Tommy Rec
Undergrind Disco (Presente con il proprio stand)
Zanovello (Presente con il proprio stand)
We Rock Music Store
Inserita da:
Jerico
il 17.05.2017 - Letture:
1093
Articoli Correlati
Altre News di MetalWave
Notizia Precedente
Notizia Successiva