PURULENT DEATH FEST II: sabato 16 e domenica 17 Aprile a Rozzano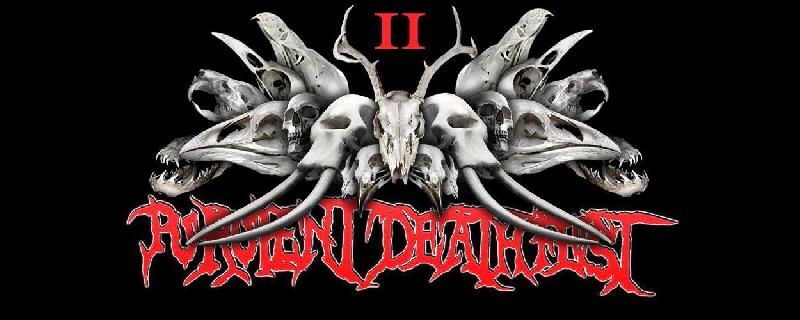 Torna anche quest'anno per il secondo anno di fila al Circolo Svolta di Rozzano il PURULENT DEATH FEST, presentato da Purulent Prod. con la collaborazione di Circolo Svolta e NEE CEE Agency.
26 band da 8 diversi paesi, oltre 10 ore di massacrante death metal per ogni giornata, un vero e proprio ritrovo/evento per tutti gli appassionati del filone più underground ed estremo del genere.
SABATO 16 Aprile 2016
PUTRIDITY - Italia, co-headliner
HOLOCAUSTO CANIBAL - Portogallo, co-headliner
DEVANGELIC - Italia
BLOODTRUTH - Italia
GORY BLISTER - Italia
CORPSEFUCKING ART - Italia
NECROSIS - Inghilterra
INDECENT EXCISION - Italia
SCORDATURA - Scozia
DARKALL SLAVES - Francia
DYING BREED - Italia
ANACHRONISM - Svizzera
GRUMO - Italia
MAZE OF SOTHOTH - Italia
DOMENICA 17 Aprile 2016
MASS INFECTION - Grecia, headliner
LOGIC OF DENIAL - Italia
DR. GORE - Italia
CEREBRAL EXTINCTION - Italia
STILLNESS BLADE - Italia
PSYCHOTOMY - Italia
SUDDEN DEATH - Italia
PERFIDIOUS - Italia
DEMIURGON - Italia
ONIRIK - Italia
BIBLIOPEGIA ANTROPODERMICA - Italia
FULCI - Italia
Apertura ore 14.00 sia sabato che domenica
Circolo Svolta Rozzano (MI), via Franchi Maggi 118
CAMPEGGIO:
Visitate il sito ufficiale dell'evento
http://purulentdeathfest.altervista.org/
(sezione "contacts") per poter prenotare un posto per il campeggio (gratuito, ma con posti strettamente limitati!) e per mettervi in contatto con noi per qualsiasi info/richiesta.
NOVITA' DI QUEST'ANNO: abbiamo la prevendita, acquistabile via paypal (
https://www.paypal.me/purulentdeathfest
) e anche attraverso il nostro sito ufficiale! Affrettatevi perché, inoltre, in prevendita il biglietto costa meno!
Sabato € 12 in prevendita, 15 € alla cassa
Domenica € 10 in prevendita, 13 € alla cassa
Abbonamento all'intero Fest 20 € in prevendita, 23 € alla cassa
Quindi vi raccomandiamo di visitare il sito ufficiale anche per ulteriori info sulla location e molto altro, senza dimenticare l'evento facebook, riportante tutti gli orari delle singole esibizioni:
https://www.facebook.com/events/500258916800780
Inserita da:
Jerico
il 12.03.2016 - Letture:
2193
Articoli Correlati
Altre News di MetalWave
Notizia Precedente
Notizia Successiva