Suffocation + Undertakers + Sudden Death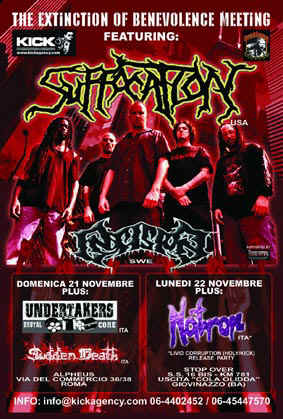 Data dell'Evento:
21.11.2004
Band:
Suffocation
Undertakers



Sudden Death



Luogo dell'Evento:
Alpheus
Città:
Roma
Promoter:
Kick Agency

.
Deadbang Records

Autore:
_agares_

»
Visualizzazioni:
2949
Live Report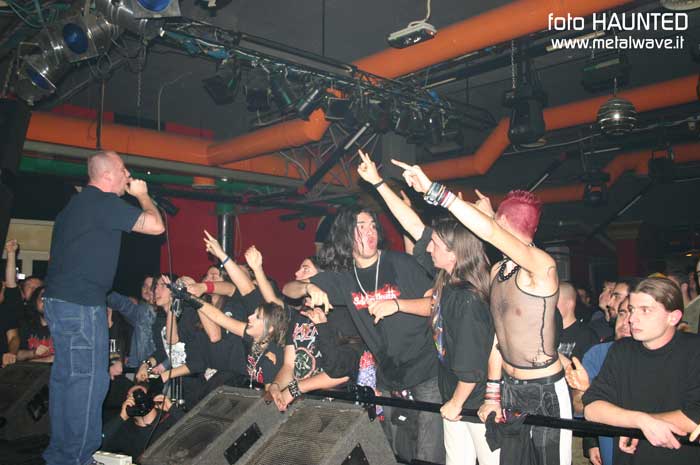 Roma, Alpheus, l'evento che attendevo da anni è ormai alle porte, I Suffocation, padrini di un certo modo di suonare e vivere il death metal, sono finalmente giunti nella capitale. Mi reco all'entrata del locale ed incontro subito il mio collega Haunted, dopo quattro chiacchiere mi apposto nei pressi del palco, dove i Sudden Death band capitolina dedita ad un death metal forse un po troppo scolastico richiama le attenzioni del pubblico cominciando a far scaldare in particolar modo la prima fila. Si nota subito nell'aria che la gente non aspetta altro che i Suffocation, i padrini della serata. Ma torniamo ai Sudden Death, la pessima acustica dell'Alpheus non favorisce di scerto lo spettacolo proposto dai romani, anche se a quanto pare il pubblico non esita a supportarli sia domenandosi sotto il palco, sia acquistando le t-shirt della band (ho notato qualche ragazzo con la maglietta del gruppo in questione in giro per la sala n.d.r).

Fra uno scatto ed una birra lo show dei Sudden Death termina e iniziano i preparativi della performance degli Undertakers di Enrico Giannone, il quale gruppo ormai ha una certa dimestichezza sul palco, molto compatti e precisi, un amalgamo di riff "in your face" mai caotici, il tutto guidato dai feroci growls di Giannone. Il Pubblico acclama gli Undertakers e già si vede il primo accenno di pogo fra un angolo e l'altro del locale, e mentre gli Undertakers continuano con la loro performance noto con piacere che i membri dei suffocation si preparano e si direggono nelbackstage... Nel mentre la band partenopea sfoggia un nuovo repertorio di song sempre brutali e veloci, il frontman Enrico si rivolge al pubblico cominciando a gridare "Suffocation!" per più volte ed il pubblico non ci pensa due volte a rispondere a modo strillando il nome in questione.

L'ora è giunta sta per cominciare l'apocalisse m/ E' quasi ora dell'entrata in scena dei Suffocation visto che per motivi a me ignoti i Natron hanno dato Forfait. Dopo qualche minuto di attesa, il combo Americano irrompe sul palco sferrando il primo colpo : "Pierced from within" e devo dire che i deathsters sono più in forma che mai soprattutto Frank che a mio parere sull'ultimo full lenght non mi era sembrato un granchè, visto che su "Despise the Sun" ci ha abituati pure troppo bene.

Lo show prosegue fra foto e scapoccio sia da parte mia che del mio collega Haunted con "Thrones of Blood", la quale spicca fra le song del cd come una delle più belle. Proseguiamo con "Surgery of Impalement, "Deceit" "Despise the sun" e assisto ad una scena a dir poco macabra, un fan sale sul palco e si versa sulla testa il contenuto di una bottiglietta d'acqua con fare minaccioso e diabolico ; dopo esser stato deriso da tutti lo show termina con "Funeral Inception" "Human Waste" e un altra song estratta da Effigy of the forgotten. Un grande spettacolo, ci hanno regalato momenti unici, sperio vivamente di rivederli al più presto, magari insieme a monstrosity e pyrexia (hehe). E lo spettacolo termina, stanco di una giornata passata a suonare e a correre per roma con macchina fotografica e zaino mi dirigo verso l'uscita, assimilando e contemplando ogni momento vissuto nella serata.
Di concerti così belli ne ho visti pochi...
Immagini della Serata
Recensione di
_agares_
Articolo letto
2949
volte.
Articoli Correlati