HOUSE OF MELANCHOLIA 2015: i dettagli del secondo appuntamento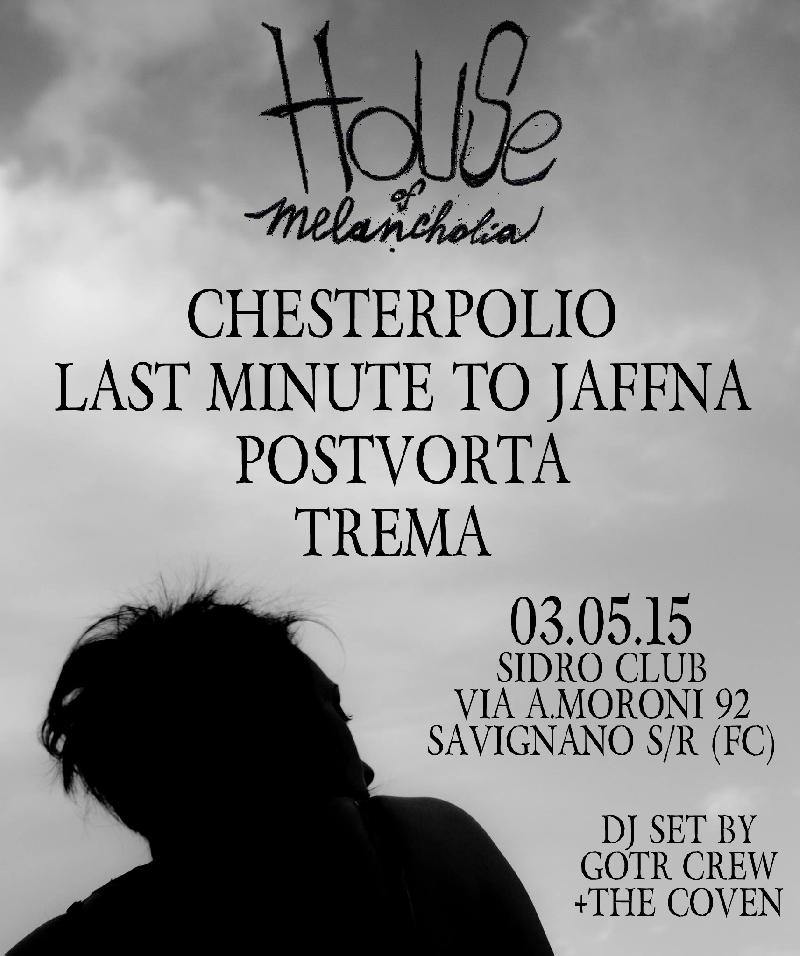 Grind On The Road Booking & Promotion è lieta di presentare:
HOUSE OF MELANCHOLIA 2015
3 maggio
Sidro Club, Savignano sul Rubicone (FC)
Via Antonello Moroni 92
3 maggio
Chesterpolio
Last Minute To Jaffna
Postvorta
Trema
Quest'anno per l'HOUSE OF MELANCHOLIA, il nostro festival annuale dedicato alla musica sperimentale italiana, abbiamo deciso di fare le cose in grande. Nella sempre stimolante cornice del Sidro Club di Savignano sul Rubicone andrà in scena non più un festival, ma una vera e propria rassegna, divisa in tre diverse serate che si terranno tra aprile e maggio.
Il 3 maggio si terrà il secondo appuntamento sonoro targato H.O.M; una serata variopinta, adatta ai gusti più differenti: il math rock degli eroi locali Chesterpolio sarà il piatto principale, ma il menu presenta molto altro. Suoneranno infatti anche i torinesi Last Minute To Jaffna, una delle più originali post rock/metal band nostrane appena uscita con il nuovo album Volume II, e i Postvorta, post metal band romagnola comprendente membri di The End Of Six Thousand Years ed ex Black Sound Empire. In apertura i Trema, che riporteranno sul palco il loro alternative rock dopo diversi mesi di pausa.
Inserita da:
Jerico
il 01.05.2015 - Letture:
1314
Articoli Correlati
Altre News di MetalWave