BOLOGNA ROCK 4 RIDERS: ad aprile la prima edizione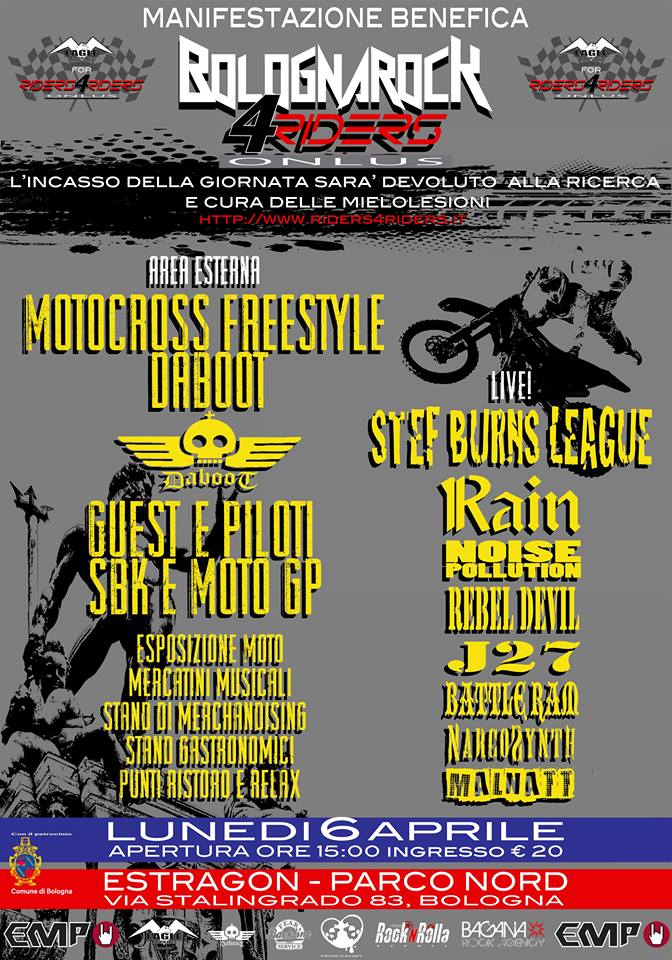 All'interno dell'ampia area del Parco Nord di Bologna si svolgerà il 6 Aprile, il giorno di Pasquetta, la prima edizione di BOLOGNA ROCK 4 RIDERS con il patrocinio del Comune di Bologna
BOLOGNA ROCK 4 RIDERS sarà un Festival Rock innovativo, una vera a propria Fiera dedicata alla cultura motociclistica ed allo stretto legame col mondo della musica nel comune scopo della solidarietà.
Diverse sono le iniziative che troverete all'interno dell'area: dalle spettacolari esibizioni dei Motocross Freestilers DABOOT e stuntmen internazionali, una esposizione e mostra mercato di moto d'epoca, fino a 10 ore di musica all'interno della struttura dell'Estragon dove si alterneranno band e artisti internazionali, nazionali bolognesi tra i quali STEF BURNS (Vasco Rossi e Huey Lewis & The News, Ex Alice Cooper, Y&T), i RAIN storica formazione hard'n'heavy bolognese, I REBEL DEVIL con GL degli Extrema e Dario Cappanera della Strana Officina, Djs, piloti, campioni, testimonials e molti altri.
Sono previsti anche mercatini musicali, stand di merchandising di varia natura, nonchè stand gastronomici, punti di ristoro e relax. Ovviamente non mancheranno gli spazi dedicati alle due ruote ed ai motociclisti.
BOLOGNA ROCK 4 RIDERS è una manifestazione di beneficenza il cui incasso sarà devoluto all'associazione RIDERS4RIDERS, Onlus fondata nel 2010 da piloti ed appassionati delle due ruote con la finalità di raccogliere fondi per assistere riders/piloti gravemente infortunati e di sostenere la ricerca per la cura delle mielolesioni.
L'area del Parco Nord oltre ad avere spazi immersi nel verde prevede per l'occasione ampi parcheggi per auto e moto.
6 Aprile 2015
BOLOGNA ROCK FOR RIDERS
On stage: STEFF BURNS LEAGUE, RAIN, NOISE POLLUTION, REBEL DEVIL, J27, BATTLE RAM, NARCOSYNTH, MALNATT AND MANY MORE...
Area Parco Nord Bologna - Estragon
· Stand di varia natura
· Punti ristoro
· Spettacolo freesyle
· Ospiti Speciali
· Musica Live
· Ospiti Speciali
...e molto altro ancora!
Inserita da:
HeavyGabry
il 05.03.2015 - Letture:
1075
Articoli Correlati
Altre News di MetalWave
Notizia Precedente
Notizia Successiva