Enzo and the Glory Ensemble «In The Name Of The World Spirit» (2020)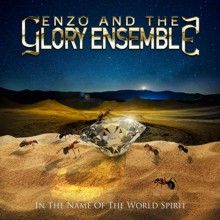 Autore:
Snarl

»
Recensione Pubblicata il:
29.12.2020
Visualizzazioni:
584
Band:
Enzo and the Glory Ensemble



Titolo:
In The Name Of The World Spirit
Nazione:
Italia
Formazione:
Enzo Donnarumma: vocals, guitars
Marty Friedman: guitars
Kobi Farhi: vocals
Ralf Scheepers: vocals
Philip Bynoe: bass
Mark Zonder: drums
Gary Wehrkamp: guitars
Brian Ashland: vocals
Nicholas Leptos: vocals
Derek Corzine: guitars
Amulyn Braught Corzine: vocals
David Brown: keyboards
Alessandro Battini: keyboards
Maria Londino: vocals
Francesco Romeggini: guitars
Mr Jack: vocals
Claudia Coticelli: vocals
Clara People: vocals
Genere:
Christian Metal
Durata:
1h 3' 33"
Formato:
CD
Recensione
Ritorna il progetto di Enzo Donnarumma, un musicista che ha davvero un debole per un metal con influenze progressive e symphonic, ma soprattutto con una passione per partiture che pescano a piene mani da sonorità coreografiche, e che sembrano davvero un musical stampato sopra una base metal, e come per i dischi precedenti, ci troviamo di fronte a un'opera di circa 66 minuti, partiture complesse, manie di grandezza compositiva e un mixaggio che con tutte queste diverse tracce che si sovrappongono, non ce la può fare. Infatti anche questo disco non suona bene, con cori che coprono la musica un bel po'.
Ma detto questo, se nei precedenti album il senso di "Overthought" e di pieno all'orlo era forte, "In the name of the world spirit" riesce a non ricadere in questa trappola, e ci propone delle influenze ben bilanciate su tutto il disco, che aprono con il prog dell'opener e di "To every chest", toccando brani da musical come "Try to put…", fino ad arrivare a sfoghi più metal come "Just in my heart to blame" e specialmente "My pillory", dove delle sempre ben gradite influenze più veloci riescono a rendere questo disco non una grandeur sinfonica fine a sé stessa, ma anche qualcosa di apprezzabile anche dal pubblico che esige più metal. E poco importa che spesso i cori coprono la musica, poco importa anche che a volte si va in dei blast beats corti e evitabili (cosa che detesto). Ha poca importanza tutto questo se viene poi bilanciato da brani potenti come "I'll add more", un buon compendio di ciò che Enzo Donnarumma sa fare: finalmente la classe è ben scaricata a terra, e con risultati notevoli.
Insomma: "In the name of the world spirit" riesce a brillare come dovrebbe, e Enzo Donnarumma è riuscito a fare qualcosa di molto buono mischiando tantissimi ingredienti. Il risultato era facile da rovinare, ma ce l'ha fatta. Disco consigliabile da comprare se la commistione "metal + colonna sonora da musical" vi interessa.
Track by Track
Precariousness - Intro

S.V.

Nothingness (It's Everyone's Fate)

75

The bronze age

70

Try to put in pit the fear

70

To every chest

75

Just in my heart the blame

75

I'll add more

80

My pillory

80

Last weep

75

Psalm 13 (Tell me)

70

Echo

75

One reason

75

The silence speaks for us

70
Giudizio Confezione
Qualità Audio:

65

Qualità Artwork:

75

Originalità:

85

Tecnica:

75
Recensione di
Snarl

»
pubblicata il 29.12.2020. Articolo letto
584
volte.
Articoli Correlati
Interviste
Spiacenti!

Non sono disponibili Interviste correlate.
Live Reports
Spiacenti!

Non sono disponibili Live Reports correlati.
Concerti
Spiacenti!

Non sono disponibili concerti correlati.