Circle of Witches «Natural Born Sinners» (2019)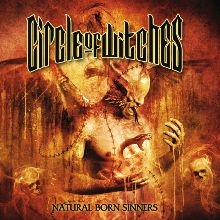 Autore:
Wolverine

»
Recensione Pubblicata il:
08.08.2019
Visualizzazioni:
993
Band:
Circle of Witches


Titolo:
Natural Born Sinners
Nazione:
Italia
Formazione:
- Mario Bove :: Vocals, Guitar;
- Joe Dardano :: Guitar;
- Tony Farabella :: Bass, Back Vocals;
-Joey Coppola :: Drums;
Genere:
Heavy Metal
Durata:
48' 8"
Formato:
CD
Recensione
Non male questo terzo disco dei Circle of Witches, band nota sulla scena underground nazionale per il proprio heavy metal diretto e compatto. Il combo, forte di un clean piuttosto caldo nella resa, incentra la propria energia sulle undici tracce racchiuse in questo "Natural Born Sinners" in cui paiono emergere più pregi che difetti. Al di là una struttura ritmica non troppo articolata ma abbastanza moderata nei contenuti, i riff delle chitarre danno il giusto impatto per scatenare una ritmica non troppo articolata ma sufficientemente dinamica al punto da divertire. I Circle of Witches, particolarmente ispirati a Candlemass, Judas Priest e quant'altro, incentrano i contenuti lirici del nuovo disco ricordando le figure che si sono storicamente ribellate alla religione, cominciando da Satana, da Giordano Bruno e dalla persecuzione alle streghe. I suoni abbastanza nitidi grazie anche alla buona produzione del disco, si incentrano su andature melodiche in cui le chitarre esercitano un buon compromesso tra ritmica e clean. "Tongue Of Misery" apre il disco con la sua dose di aggressività semplice ma efficace anche a ricordarci in sostanza che per fare colpo, al di là di una dose di indiscussa bravura non è poi necessario strafare; altri episodi non meno interessanti nei contenuti ricadono su " The Black House", brano realizzato con un heavy particolarmente oscuro nei contenuti, " Your Predator", compatta, diretta e ben rappresentativa dell'indole della band; "Death To Inquisitor", una delle tracce migliori del disco semplice e compatta nei contenuti con una buona dose armonica indimenticabile al pari del suo ritornello cantato. Tirando le somme, il disco, di giusta lunghezza e di una discreta struttura a cui forse va lamentata un po' di monotonia nella sezione ritmica, piace e diverte senza però gridare al miracolo.
Track by Track
Tongue Of Misery

75

The Black House

75

Giordano Bruno

70

The Oracle

70

First Born Sinner

70

Spartacus (Prophecy Of Riot)

70

Your Predator

70

Deus Vult

S.V.

Death To The Inquisiton

75

You Belong To Witches

75

Cult Of Baphomet

S.V.
Giudizio Confezione
Qualità Audio:

75

Qualità Artwork:

80

Originalità:

70

Tecnica:

70
Recensione di
Wolverine

»
pubblicata il 08.08.2019. Articolo letto
993
volte.
Articoli Correlati
Interviste
Spiacenti!

Non sono disponibili Interviste correlate.
Live Reports
Spiacenti!

Non sono disponibili Live Reports correlati.
Concerti
Spiacenti!

Non sono disponibili concerti correlati.