Burning Black «Flag Of Rock» (2016)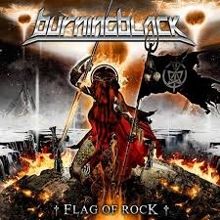 Autore:
Snarl

»
Recensione Pubblicata il:
21.11.2016
Visualizzazioni:
1347
Band:
Burning Black



Titolo:
Flag Of Rock
Nazione:
Italia
Formazione:
Massimo De Nardi :: Vox
Enrico Antonello :: Guitars
Chris Jeremy :: Guitars
Richard Holmes :: Bass
Jack Allen :: Drums
Genere:
US Power Metal / 80s Heavy Metal
Durata:
23' 40"
Formato:
EP
Recensione
Nuovo ep per i Burning Black da Treviso, scaricabile a gratis e che consiste evidentemente in una anticipazione di qualche futura release, questo "Flag of rock", del cui discorso scarterei a priori la cover "Balls to the wall" degli Accept, più che accettabile come divertimento dei BB, ma che a conti fatti non può competere con la versione originale, specialmente perché Udo è impareggiabile per me.
Per il resto, anche con 4 brani i Burning Black riescono a darci degli spunti interessanti per il futuro, visto che qui c'è spazio per un classico ma sempre ben accetto metal hymn come "Flag of Rock", mentre colpisce anche "Far away" sia perché si tratta di un brano eccellentemente a metà tra rock e metal, sia per una prestazione vocale davvero rimarcabile, anche un po' troppo sopra le righe volendo, ma ci va bene lo stesso, e anche la mossa "Purgatory Child" è davvero apprezzabile, vivace e completa ma non troppo aggressiva, mentre meno spettacolare è "Love me", un brano pur sempre elettrico che prova la carta della romanticheria: non è uscito male, ma i BB eccellono quando fanno più i rockettari. Ed è proprio questo feeling che ti fa apprezzare i Burning Black durante tutto questo Ep di poco meno che 24 minuti, che consiglio molto a chi cerca le nostre tanto amate sonorità tra rock e metal degli anni 80.
Track by Track
Flag of rock

75

Balls to the walls (Accept cover)

S.V.

Far away

80

Love me

70

Purgatory Child (Beauhill mix)

75
Giudizio Confezione
Qualità Audio:

75

Qualità Artwork:

75

Originalità:

75

Tecnica:

75
Recensione di
Snarl

»
pubblicata il 21.11.2016. Articolo letto
1347
volte.
Articoli Correlati
Live Reports
Spiacenti!

Non sono disponibili Live Reports correlati.
Concerti
Spiacenti!

Non sono disponibili concerti correlati.