Karnak «Melodies Of Sperm Composed» (2003)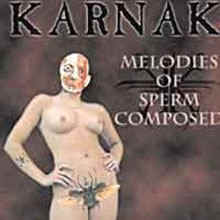 Autore:
Lord Lucyfer

»
Recensione Pubblicata il:
--
Visualizzazioni:
4071
Band:
Karnak



Titolo:
Melodies Of Sperm Composed
Nazione:
Italia
Formazione:
Genere:
Durata:
34' 59"
Formato:
Data di Uscita:
2003
Etichetta:
Distribuzione:
---
Agenzia di Promozione:
---
Recensione
A vedere il titolo di questo album, e quello di alcune canzoni, si potrebbe pensare di ritrovarsi davanti alla classica band Brutal, sullo stile dei Cannibal Corpse per intenderci.
Invece, "Melodies Of Sperm Composed" dei Karnak è il più incredibile lavoro di Techno Prog Death che sia mai passato per il mio stereo.
Questi ragazzi ci danno dentro come mastri ferrai, ma con inserti Prog che farebbero impallidire persino i Dream Theater (per non parlare dei mestri del Prog Death come Atheist, Cynic e Meshuggah).
Sarebbe troppo prolisso fare una recensione track by track, ed estremamente riduttivo parlare solo di alcune tracce, per cui vi posso dire che nel complesso, quest'album dei Karnak NON E' tecnica fine a sè stessa, ma uno spettacolare platter in cui tecnica e brutalità si fondono in un mix estremamente interessante.
Ancora una volta dall'Italia arriva una band capace di demolire anche le bands madri del genere proposto (vedi anche gli Handful Of Hate col loro stupendo Swedish Black, capace quasi di oscurare Marduk e Dark Funeral): i Karnak si ritagliano un posto di fianco (se non proprio sopra) a gruppi quali i già citati Cynic, Atheist e Meshuggah.
Da fare i complimenti alla The Twelfth Planet Records per aver messo sotto contratto i Karnak e per aver prodotto questo cd che definire capolavoro, è solo mero eufemismo.
Track by Track
Spermatozombies

80

Melodies Of Sperm Composed

85

A Face Disfigured By Thorns

97

Gorham

78

Eyes Of Larva

81

My Enchanting Normality

78

Angel Hooked

80

Pullen Of My Penis

75

Other Two Days

87
Giudizio Confezione
Qualità Audio:

80

Qualità Artwork:

60

Originalità:

100

Tecnica:

100
Recensione di
Lord Lucyfer

»
pubblicata il --. Articolo letto
4071
volte.
Articoli Correlati