ALLTHENIKO: disponibile il video di ''Waste Of Time''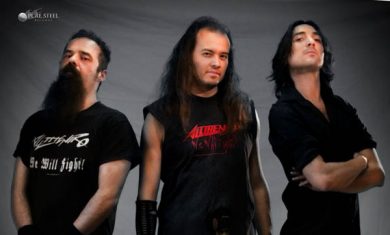 Gli Alltheniko, hanno reso disponibile il video di "Waste of Time", brano tratto del loro nuovo lavoro intitolato "Italian History VI"in uscita il prossimo 15 settembre 2017 con la Pure Steel Records. La band è attiva da ben 15 anni e rappresenta una vera e propria garanzia dell'Heavy Metal.
Nel loro 6 album il trio sa esattamente che in realtà ciò che veramente conta solo la velocità e la forza!
Naturalmente nel corso dell'ascolto non mancheranno le influenze teutoniche che hanno caratterizzato un decennio di Thrash, ma l'ingegno stilistico ha dato anche luogo alla stesura di due brani cantati in italiano! Eccezionale! Le rimanenti canzoni sono per tutti coloro che sono appassionati di RAGE e PRIMAL SCREAM!
Di seguito la Line-up:
Joe Boneshaker - chitarre
David Nightflight - basso, voce
Luke The Idol - tamburi
Inserita da:
Wolverine
il 08.09.2017 - Letture:
998
Articoli Correlati
Interviste
Live Reports
Spiacenti!

Non sono disponibili Live Reports correlati.
Concerti
Spiacenti!

Non sono disponibili concerti correlati.
Altre News di MetalWave
Notizia Precedente
Notizia Successiva