Neurasthenia «Possessed By Your Omen» (2012)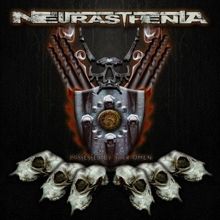 Autore:
Snarl

»
Recensione Pubblicata il:
--
Visualizzazioni:
2341
Band:
Neurasthenia




Titolo:
Possessed By Your Omen
Nazione:
Italia
Formazione:
Matteo "lehmann" Grazzini :: Bass, Vocals
Neil Grotti :: Vocals, Guitars
Rudy Mariani :: Drums
Genere:
Durata:
45' 7"
Formato:
CD
Data di Uscita:
2012
Etichetta:
Distribuzione:
---
Agenzia di Promozione:
---
Recensione
Attenzione cari amici thrashers: questo non è il nuovo vero disco dei thrashers italiani Neurasthenia, uno tra i migliori nomi del thrash italiano che dovrebbe ricevere sicuramente più attenzione, ma il rifacimento di canzoni apparse sui loro due full length, insieme alle prime due inedite canzoni di questo disco e ad una finale cover dei Kiss.
Sinceramente: ce n'era il bisogno, visto che parliamo di due full length usciti nel 2007 e nel 2009? Mica tanto, con quello che costano i cd attualmente. Qui ci troviamo di fronte a, come detto, 2 inediti di cui uno in realtà uscito come singolo l'anno scorso, l'altro preso dal demo "full force of thrashers", una cover che sinceramente lascia il tempo che trova, e 4 brani per disco, che non sono neanche tutti quelli dei full length, ovviamente.
Premesso che entrambi i dischi dei Neurasthenia sono ottimi, la domanda è: perché dovrei comprare questo "Possessed by your Omen" se ho già i cd originali con quello che costa oggi la vita? E anche se non avessi i cd originali perché dovrei preferire questo disco che mi propone solo alcuni dei brani dei dischi, piuttosto che comprare direttamente i dischi veri? Perché sono suonati meglio? Ok, ma sinceramente anche il suono dei primi due album non mi faceva schifo, quindi sinceramente poco cambia. Perché c'è materiale inedito? Sì ok, ma è poca roba, detto francamente, e della cover non me ne faccio nulla. Per qualche anniversario? No, questo disco esce a 8 anni dalla formazione della band, quindi neanche.
Insomma: non trovo il minimo senso a questa uscita, che sarà anche carina e ben fatta, ma sinceramente la trovo gradevole e opportuna tanto quanto un cameriere che al ristorante, dopo esserti già rimpinzato di primo e secondo, ti porta una riproposizione del primo e del secondo tutti insieme. Magari non farà schifo, ma non è che se ne sentiva tutta questa necessità, anzi.
La verità è che questo "possessed by your omen" sa di autoreferenziale, di non imprescindibile, di ridondante e di pretenzioso (dopo soli 2 dischi già un rifacimento?), non sappiamo e non ci permettiamo di dire che sia fatto a scopo di lucro o di svincolamento da qualche label perché non lo sappiamo, ma di certo non ha nulla di particolarmente valido per giustificarne un acquisto rispetto ai full length. Se proprio si doveva pubblicare un cd antologico, si poteva sfruttare il rifacimento o la riproposizione di pezzi dei demo, oppure aggiungere tonnellate di materiale live, oppure aggiungere dei video, o arrivare alla completa durata del cd in modo almeno da puntare sulla quantità del materiale riproposto, ma in questo disco non c'è niente di tutto questo. Pertanto, la risposta alla mia domanda iniziale: "perché?" non è affatto pervenuta.
Il voto finale che vedete sotto è una bocciatura che tiene conto soltanto dell'orripilante rapporto qualità – prezzo del cd in questione e della completamente mancata imprescindibilità dello stesso. Compratevi i 2 full length e farete un ottimo affare. Comprate questo disco e avrete il disco sbagliato dei Neurasthenia.
Track by Track
When Nightmare Comes True

50

I'm Walking with a Zombie

50

Fell Possessed

50

No Politics

50

Screaming Corpse

50

Go Fuck Themselves

50

Assassination

50

Thrash Is Back in Town

50

Your Omen

50

The Last Order of God

50

I Love It Loud (KISS Cover)

50
Giudizio Confezione
Qualità Audio:

50

Qualità Artwork:

50

Originalità:

50

Tecnica:

50
Recensione di
Snarl

»
pubblicata il --. Articolo letto
2341
volte.
Articoli Correlati