Neurasthenia «Full force trashers!» (2005)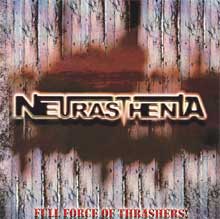 Autore:
FallenAngel

»
Recensione Pubblicata il:
--
Visualizzazioni:
2246
Band:
Neurasthenia




Titolo:
Full force trashers!
Nazione:
Italia
Formazione:
Neil :: Voce e chitarra
Matteo :: basso
Simone :: chitarra
Leo :: batteria
Genere:
Durata:
14' 55"
Formato:
Data di Uscita:
2005
Etichetta:
Distribuzione:
---
Agenzia di Promozione:
---
Recensione
I Neurasthenia nascono nel 1996 con il nome di Animalator e ci propongono un thrash metal senza compromessi di chiaro stampo europeo senza però disdegnare momenti che riprendono il sound tipico delle band americane.
Potenza, potenza, potenza; questa è la parola d'ordine del gruppo che ha inciso un demo veramente carico di energia che ci porta indietro nel tempo di almeno 10 anni quando i Metallica suonavano ancora thrash. Riff iper-veloci fanno compagnia a cavalcate di doppia cassa al fulmicotone il tutto accompagnato da una voce che si adatta alla perfezione con il genere. Queste caratteristiche si notano soprattutto in "Jihad", il migliore dei quattro brani presenti nel demo.
Più vicino a sound americaneggianti è "R.U.N" che ha momenti che ricordano i primi Testament con quel qualcosa di personale che di certo non guasta.
Mai titolo di canzone fu più azzeccato di "Fury"; infatti il brano si può definire una furiosa esplosione di rabbia caratterizzata da un'energia che molte band più blasonate possono solo sognare, il tutto migliorato da alcuni momenti growl che fanno apprezzare ancora di più questa ottima canzone.
Discorso decisamente differente va fatto per "I'm walking with a zombie" , brano che pur non dissociandosi dal thrash propriamente detto, presenta momenti molto vicini al power e altri prettamente heavy per poi ritornare su stilemi bay area con assoli e riff velocissimi e al tempo stesso precisi senza mai avere cadute di ritmo di sorta.
Questo "Full force thrashers!" è quindi un eccellente cd di thrash potente e ben strutturato in tutte le sue parti che sicuramente non mancherà di piacere ai nostalgici degli anni '80 e '90. Questa band ha tutte le carte in regola per sfondare in un genere ormai troppo congestionato da sperimentazioni e di gruppi di dubbio valore; attendiamo con ansia un full-lenght e prove live che sono sicuro non deluderanno.

Track by Track
I'm walking with a zombie

78

R:U:N: (Return under Neurasthenia)

89

Fury

80

Jihad

95
Giudizio Confezione
Qualità Audio:

90

Qualità Artwork:

70

Originalità:

80

Tecnica:

88
Recensione di
FallenAngel

»
pubblicata il --. Articolo letto
2246
volte.
Articoli Correlati