Tommy Vitaly «Hanging Rock» (2012)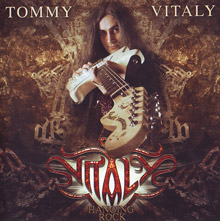 Autore:
Barbaro

»
Recensione Pubblicata il:
--
Visualizzazioni:
1672
Band:
Tommy Vitaly




Titolo:
Hanging Rock
Nazione:
Italia
Formazione:
Tommy Vitaly - Guitars, Keyboards, Piano
Andrea "tower" Torricini - Bass
Rhino - Drums
Genere:
Durata:
40' 0"
Formato:
CD
Data di Uscita:
2012
Etichetta:
Distribuzione:
---
Agenzia di Promozione:
---
Recensione
L'ultimo progetto del chitarrista solista Tommy Vitaly e' qualcosa di davvero succulento che fa ingolosire solo a leggere i nomi degli artisti che vi hanno partecipato. Musicisti del calibro di Michele Luppi, la piu' bella voce che abbiamo in Italia, David De Feis, Todd La Torre e poi Zak Stevens, David Shankle, Ferdy Doernberg e Kenny Earl Edwards aka Rhino hanno dato vita ad un'opera gigantesca ma raccolta in solo 40 minuti di musica. La cura su ogni pezzo ma l'assenza di pomposita' autocelebrativa molto comune in questo tipo di dischi danno un valore all'album poco apprezzabile in opere simili. Del resto e' pura professionalita' quella che abbiamo davanti; a cominciare dalla copertina Hanging Rock dimostra di avere eleganza e sobrieta' senza dimenticare pero' l'anima rock che e' quella che si apprezza immediatamente con la potenza e la velocita' del pezzo di apertura Betrayer. Gia' da qui, i limiti neoclassici definiti in precedenza decadono. Nonostante non manchi una chitarra tecnica e imperante, quello che viene fuori gia' dal primo pezzo e' che Hanging Rock e' un disco metal, magari meno rude, a tratti un po' addolcito con melodie che ricordano anche il power metal piu' canonico, ma comunque rimane un disco Heavy Metal, di quello che accontenta tutti. Del resto si va con tutto l'acceleratore aperto per tutti e tre i primi pezzi: Betrayed appunto ma anche Run with Devil e la velocissima Hands of Time. E' con Forever Lost invece che si riprende fiato: ricca ballad, molto ben strutturata sia nella parte strumentale che nei cori in cui ben si apprezza quanta dedizione sia stata data alla produzione. I suoni non stancano, sono melodici ma non mielosi e la riuscita di un'alchimia del genere non e' affatto scontata, soprattutto su una ballad che ha il piglio di una suite, come Forever Lost.
Idol torna a portare il disco sulle precedenti velocita' impreziosite dalla voce di Michele Luppi che qui offre, manco a dirlo, una prestazione eccelsa; dopo la strumentale Misanthropy a dare conferma delle qualita' e dell'indirizzo del disco arriva Heavy Metal God: un riff portante che ricorda i bei tempi di Ross the Boss nei Manowar e una interpretazione incredibile di Carsten Shultz danno vita a un pezzo mirabolante con picchi davvero alti. Dopo la title track, altro grande pezzo strumentale, la chiusura e' affidata a Icewarrior, altro pezzo catchy che chiude un disco veramente ricco, sotto ogni aspetto e che a mio parere raccoglie i gusti di una vasta gamma di ascoltatori, i puristi del metal su tutti, ma non solo.
Track by Track
Betrayer

75

Run with the Devil

75

Hands of Time

80

Forever Lost

90

Idol

90

Misanthropy

80

Heavy Metal God

95

Hanging Rock

80

Icewarrior

75
Giudizio Confezione
Qualità Audio:

90

Qualità Artwork:

75

Originalità:

70

Tecnica:

90
Recensione di
Barbaro

»
pubblicata il --. Articolo letto
1672
volte.
Articoli Correlati