Apocalyptic Salvation «Skull's Collector» (2012)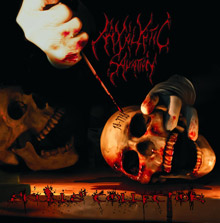 Autore:
Deathrow

»
Recensione Pubblicata il:
--
Visualizzazioni:
1558
Band:
Apocalyptic Salvation






Titolo:
Skull's Collector
Nazione:
Italia
Formazione:
Alan Denti :: Drum
Giovanni Morsiani :: Bass Guitar
Gabriele Principe :: Rhythm/Lead Guitar
Fausto Martinelli :: Rhythm/Lead Guitar
Sandro Capellini :: Lead Vocals
Genere:
Durata:
15' 35"
Formato:
EP
Data di Uscita:
2012
Etichetta:
Distribuzione:
---
Agenzia di Promozione:
---
Recensione
Ep interessante per gli italiani Apocalyptic Salvation. Formati nel 2007 dal batterista Alan Denti e dal chitarrista Gabriele Principe, Skull's Collector, in uscita da Aprile 2012. Non è il primo lavoro da loro realizzato, per essere un Ep autoprodotto i suoni sono davvero buoni e chiari. L' Ep presenta 4 tracce, con un forte stampo death, ottimo uso di doppio pedale che da moltissima velocità, potenza e ritmo alle canzoni, supportato da riff di chitarra pesanti in stile thrash, che ricordano molto i tipici riffs di Kreator e Slayer. I soli sono tipicamente thrash, veloci e anche abbastanza tecnici. Per quanto riguarda la voce è in growl, un po' sporca, ma nell' insieme ci sta bene. Skull's Collector è un Ep dove si possono sentire molto influenze di Cannibal Corpse, Slayer e Kreator come detto in precedenza, Death e Immortal, gruppi che hanno ispirato chiaramente gli Apocalyptic Salvation. I testi che trattano le loro canzoni, o che danno maggiore ispirazione, riguardano principalmente il tema dell' Apocalisse, vista come unico modo per salvare il mondo da un' umanità corrotta e malata. Testi molto forti e duri che danno maggior potenza alla loro musica. L' Ep si apre con Skull's Collector, canzone che da nome al lavoro stesso, è una canzone violenta e veloce, dove i ritmi alla batteria non vengono risparmiati, con frequente uso di doppio pedale, il solo è in puro stile thrash, che a primo impatto sembrerebbe Kerry King ( Slayer ) stesso a suonarlo. Subito dopo c'è Nothing Left to Massacre, è la più "lenta" delle canzoni da loro proposte in questo Ep, ma sicuramente di gran effetto comunque. Ma non c'è tempo per riposarsi che la canzone seguente, Hunter, torna a ritmi veloci e sostenuti, ricca di blast beats, l' impronta vocale è anche molto più marcata rispetto le altre canzoni. In conclusione abbiamo Riding The Apocalypse, che si apre in back sound con degli spari di mitra in guerra, come se l' Apocalisse avesse inizio, ottima canzone per concludere l' Ep, che non lascia di certo delusi, con riff anche molto orecchiabili per tutta la durata della canzone. Mentre si conclude verso i 3min, si percepisce chiaramente l' influenza dei Cannibal Corpse. Un lavoro veramente ben fatto seppur autoprodotto, è davvero di un buonissimo livello, sia per quanto riguarda i suoni e sia per il loro livello musicale e tecnico, specialmente per quanto riguarda le parti di batteria e chitarra. Gruppo che sicuramente live farà un gran effetto, che difficilmente potrà deludere. Consigliato specialmente agli amanti del death/thrash metal.
Track by Track
Skull's Collector

85

Nothing Left to Massacre

70

Hunter

85

Riding The Apocalypse

80
Giudizio Confezione
Qualità Audio:

85

Qualità Artwork:

95

Originalità:

80

Tecnica:

85
Recensione di
Deathrow

»
pubblicata il --. Articolo letto
1558
volte.
Articoli Correlati