Goldenseed «The War Is In My Mind» (2012)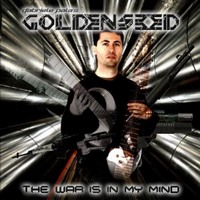 Autore:
Gods Hammer

»
Recensione Pubblicata il:
--
Visualizzazioni:
1357
Band:
Goldenseed


Titolo:
The War Is In My Mind
Nazione:
Italia
Formazione:
Gabriele Pala: Guitar, Vocals, Programming
Genere:
Durata:
52' 21"
Formato:
CD
Data di Uscita:
2012
Etichetta:
Distribuzione:
---
Agenzia di Promozione:
---
Recensione
Eccoci giunti ad esaminare il terzo lavoro targato Goldenseed, monicker del progetto solista del triestino Gabriele Pala, virtuoso chitarrista classe '77 già in forza a Obscenity e Karnak. The War is in my Mind, uscito sotto l'egida della SG Records, è un titolo che è tutto un programma, e già ci inserisce nella complessità di un landscape sonoro davvero cerebrale: ritmiche tortuose, sincopate, volte a sorreggere un'intricata serie di evoluzioni chitarristiche davvero estreme, alternate a digressioni che strizzano più volentieri l'occhio alla fusion, in cui la fanno da padrone la scelta di suoni più morbidi, tempistiche flessibili e la sperimentazione in campo armonico e melodico. I riferimenti per l'ascoltatore non mancano: Zappa (un titolo come An Homage to Frank lascia pochi dubbi), Cynic (sia nelle evoluzioni solistiche che nei momenti più rilassati, come in Aragonite Sea), Aghora, volendo Jeff Loomis nelle ritmiche downtuned più incazzose, e perché no, anche i conterranei Sadist, importante riferimento se si vogliono miscelare partiture estreme, digressioni fusion e inserti tribali (ascoltare G1s Transition per credere); il platter è comunque dotato di una coerenza interna che cerca di non farci sfuggire la personalità dell'artista in questione. Un'uscita interessante per gli amanti dei virtuosismi sulle sei (e magari anche sette/otto) corde ma, purtroppo, relegata proprio a questa frangia di ascoltatori, vuoi per la poco accessibile proposta, appunto eminentemente chitarristica (magari anche un po' derivativa) e attingente a generi piuttosto di nicchia, vuoi per le manchevolezze nella composizione e nell'esecuzione del contesto non chitarristico, limitato da suoni freddi, plasticosi e talvolta da discrete lacune nel programming della drum-machine. Da segnalare la presenza di Stian Culto, ex-Mayhem, alla voce nella conclusiva (Dead) On the Road, discreta cavalcata spezzacollo.
Track by Track
The R38 Class

55

Kosmos 233

65

A Million Random Digits

70

Aragonite Sea

70

Blindness

60

A Homage To Frank

65

The Enhancer Trap

60

Xpt3

55

G1S Transition

65

The Cathedral of Incarnation

60

(Dead) On the Road (ft. Stian Culto)

70
Giudizio Confezione
Qualità Audio:

60

Qualità Artwork:

60

Originalità:

65

Tecnica:

75
Recensione di
Gods Hammer

»
pubblicata il --. Articolo letto
1357
volte.
Articoli Correlati