MaterDea «Satyricon » (2012)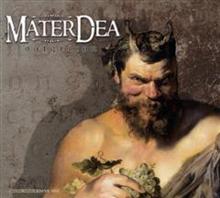 Autore:
carnival creation

»
Recensione Pubblicata il:
--
Visualizzazioni:
1842
Data di Uscita:
2012
Etichetta:
Distribuzione:
---
Agenzia di Promozione:
---
Recensione
Per tutti coloro che adorano le contaminazioni dell'Heavy Metal verso mondi apparentemente distanti ma ricchi di sorprese, sarebbe impossibile non menzionare apertamente i torinesi MaterDea, noti nella scena italiana per essere tra i più originali detentori di quello che potrei definire Symphonic Celtic Pagan Metal, tanto per etichettarli un po' scherzosamente.
Parlando in modo serio, invece, posso senz'altro scrivere di loro definendoli con un aggettivo: accattivanti oppure affascinanti. Personalmente di un disco, a prescindere dal genere, vengo rapito prima di ogni altra cosa, dalla sonorità scelta, dalla coerenza, dai voluti contrasti e dalla scelta dei singoli suoni. Un album o una demo potrebbe essere il disco migliore del mondo ma se è costituito da suoni orrendi e prodotti in modo non adeguato, spiacente, ma non lo considererei adatto per le mie orecchie.
Di tutt'altra pasta è formato "Satyricon" dei nostri amici amanti delle influenze celtiche. Sono brani composti per essere di medio-lunga durata (anche sette minuti) ma i suoni sono semplicemente meravigliosi; fin dalle splendide vocals femminili che raggiungono una sostanza eterea è possibile, già dalla prima e bellissima title-track, farsi un'idea di ciò che ci aspetta in questa oretta scarsa.
I nostri scelgono volutamente di appartenere ad una visione del Metal più atmosferica che accentuando, invece, le incursioni ritmiche che, forse, danneggerebbero i dolcissimi suoni di archi, tastiere e strumenti tipici e abbassando qualitativamente il clima che vuole (a buon merito) risultare per ciò per cui è stato generato dai MaterDea: un susseguirsi di angeliche dimensioni su cui poggiano cadenzate andature di batteria, basso e chitarra distorta (forse un po' troppo alta di volume in certi punti) mentre le splendide voci fanno il resto.
Un piccolo grande gioiellino che ho apprezzato anche per il suo risultare così immaginario nella sua essenza. Questo secondo full-lenght batte il primo.

Track by Track
Satyricon

80

Lady Of Inverness

70

The Green Man

75

Benendantes, Malandantes

75

Awareness

70

Broomoon

80

Castle Of Baux

70

Children Of The Gods

70

The Little Diviner

80

Between The Temple's Walls

85
Giudizio Confezione
Qualità Audio:

80

Qualità Artwork:

70

Originalità:

75

Tecnica:

80
Recensione di
carnival creation

»
pubblicata il --. Articolo letto
1842
volte.
Articoli Correlati