In Aevum Agere «Mmxi» (2011)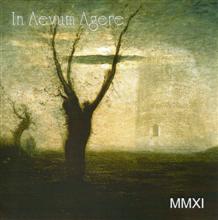 Autore:
carnival creation

»
Recensione Pubblicata il:
--
Visualizzazioni:
2137
Band:
In Aevum Agere




Titolo:
Mmxi
Nazione:
Italia
Formazione:
Bruno Masulli :: All Vocals, All Rhythm Guitars, Lead Guitar, Bass
Marco Ruggiero :: Lead Guitar
Andrea Cannata :: Drums
Genere:
Durata:
26' 48"
Formato:
EP
Data di Uscita:
2011
Etichetta:
Distribuzione:
---
Agenzia di Promozione:
---
Recensione
Dopo l'EP "From The Depth Of Soul" (2007) e il bel singolo "Labyrinth Of Emptiness" (2009) ormai qui non si sta più nella pelle per l'attesa del debut-album dei partenopei In Aevum Agere, progetto power-doom metal dell'ormai noto genialoide Bruno Masulli, talentuoso musicista dalle mille idee che abbiamo visto già in diverse occasioni discografiche, alcune delle quali recensite su Metalwave (Annihilationmancer, Power Beyond, Antico Canto).
Purtroppo per noi dovremmo aspettare ancora un po' per poter avere tra le mani quello che sarà senza dubbio il tanto pianificato, ragionato e lavorato album ma intanto il nostro amico Bruno non se ne sta certo con le mani in mano, nossignore, e ci spedisce non un singolo, non un mini-cd ma un EP contenente cinque bei brani che andranno a incrementare quella che sarà la scaletta del tanto atteso "The Shadow Tower", disco che sarà pubblicato non appena i nostri troveranno una distribuzione officiale, com'è giusto che sia.
L'assaggio mi è piaciuto non poco e ho trovato, ancora una volta, interessantissima l'attitudine del trio napoletano di spegnere le atmosfere del power metal relegandole ad una realtà più melanconica, quasi riflessiva ma senza perdere ritmo, riff accattivanti e suggestivi assoli di chitarra mentre la voce del Masulli –che già conosciamo bene- non delude proprio mai raggiungendo qui una teatralità niente male.
Emozionanti "The Last Farewell", "Act Of Faith" e la bella traccia di chiusura "Son Of Unknown", brano che, a detta dello stesso Bruno, potrebbe rappresentare una potenziale bonus track dell'album.
Una cosa è sicura: l'EP ti fa venir voglia di tornare ad ascoltare il tutto da capo..e in fondo nulla impedisce di farlo, almeno fino a quando "The Shadow Tower" non vedrà la luce, cosa che spero davvero accada molto presto! Nel frattempo..che vi devo dire, In Aevum Agere? Non deludete proprio mai!
Track by Track
Leave Me Alone

75

Act Of Faith

75

The Last Farewell

75

Iniquitous Judgement

75

Son Of Unknown

80
Giudizio Confezione
Qualità Audio:

80

Qualità Artwork:

70

Originalità:

70

Tecnica:

80
Recensione di
carnival creation

»
pubblicata il --. Articolo letto
2137
volte.
Articoli Correlati