Gods of Fire «Wrath of the Gods» (2004)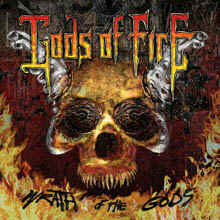 Autore:
Glory Rider

»
Recensione Pubblicata il:
--
Visualizzazioni:
2456
Band:
Gods of Fire



Titolo:
Wrath of the Gods
Nazione:
U.s.a.
Formazione:
- Fra Diavolo (drums)
- DJ Blood Sacrifice (7 String and Acoustic Guitars, Keyboards, Background Vocals)
- Prometheus (Lead and Harmony Vocals)
- Doctor Time (4 and 5 String Bass)
- Saucy Jack (6 String and Acoustic Guitars, Background Vocals)
Genere:
Durata:
Formato:
Data di Uscita:
2004
Etichetta:
Distribuzione:
---
Agenzia di Promozione:
---
Recensione
Udite, Udite Signori e Signore! I Gods of Fire provengono nientemeno che dalla lontana New York ed è quindi un onore per Metal Wave ospitare una band d'oltreoceano, che a sua volta ospita nella propria formazione un conterraneo italiano: precisamente, sto parlando di Jan D'Amore, che qualcuno più vetusto ricorderà in qualità di batterista della band capitolina Astaroth; ma addentriamoci nell'emisfero musicale di questi Metallers statunitensi. Con piacere scopriamo subito che il loro è un Epic Power Metal dai connotati molto melodici che affonda le sue radici nel tradizionale U.S. Metal di cui band come Helstar, Hallows Eve ed affini furono ottimi esponenti, nell'Heavy Metal più classico di band come Iron Maiden e Judas Priest (giusto due nomi a caso…) e nel Power Metal moderno più epicheggiante di cui i Blind Guardian ed i moderni Manowar (visto che l'Epic sanguigno e doomeggiante reso immortale da opere come "Into Glory Ride" ed "Hail to England" non gli appartiene più) sono degni esponenti. Voglio parlarvi ora della produzione del disco, visto che i Gods of Fire non si sono autoprodotti per realizzare questo disco, ma dispongono già del supporto di una casa discografica newyorkese che risponde al nome di Black Thirteen e che sembra puntare molto sulla band in questione, essendosi attivata ampiamente per promuovere il disco (che è giunto perfino a noi) ed offrendo l'opportunità agli Dei del Fuoco di calcare spesso i palchi americani; altra noticina, il responsabile della co-produzione in studio è Wharton Tiers, che tra le sue precedenti produzioni vanta nomi importanti della scena musicale Metal e non, come Helmet, Biohazard e White Zombie e che ha portato a termine un buon lavoro per i Gods of Fire, scegliendo suoni "onesti" (non artificiali o artificiosi e chi vuole intendere, intenda) ed adatti al genere proposto, abbastanza lineare. E lineare è anche l'andamento generale dei brani, che lungo lo scorrere dell'ascolto mantengono una buona omogeneità qualitativa e coinvolgono chi riceve le vibrazioni sonore; tra gli highlight del disco, vorrei citare l'opener "Welcome to Hell", diretta e Metallica al punto giusto (ottimo il refrain), le letterarie "Hyperion" ed "Eternally Strong" (basate rispettivamente sull' "Hyperion" di Simmons e sul "The Case of Charles Dexter Ward"! del sommo Lovecraft), inquietanti ed epico-orrorifiche come i Manilla Road sanno fare (il masterpiece-album "Mystification" a tratti sembra far capolino). Non aggiungo altro, perchè vi invito ad ascoltare l'album, che pur se non diverrà una pietra miliare dell'Epic Metal, potrà interessare benissimo chiunque sia un amante non fossilizzato su schemi troppo tradizionali del genere.Good Luck, Friends! Salutiamo i nostri amici Gods of Fire e Tutti i Metallers in rete. Hail Metal!
Track by Track
Welcome To Hell

80

City of Gold

75

Hyperion

85

The Long Walk

80

Digital Neon

75

Eternally Strong

80

Nectar Of The Gods

80

Prometheus Unbound

75
Giudizio Confezione
Qualità Audio:

80

Qualità Artwork:

80

Originalità:

75

Tecnica:

80
Recensione di
Glory Rider

»
pubblicata il --. Articolo letto
2456
volte.
Articoli Correlati