Necromass «Abyss Calls Life» (2011)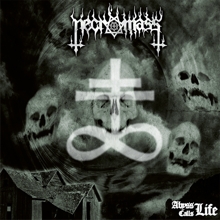 Autore:
Snarl

»
Recensione Pubblicata il:
--
Visualizzazioni:
3089
Band:
Necromass






Titolo:
Abyss Calls Life
Nazione:
Italia
Formazione:
Charles Blasphemy - vocals
Black Wizard - drums
Ain Soph Aour - bass
John Cordoni - lead guitars/ acoustic guitars
Nachzehrer Mara - rhythm guitars
Genere:
Durata:
1h 8' 38"
Formato:
CD
Data di Uscita:
2011
Etichetta:
Distribuzione:
---
Agenzia di Promozione:
---
Recensione
Questa è la seconda ristampa con la quale i Necromass sono tornati alla ribalta, insieme all'altro loro debut "Mysteria Mystica Zothyriana". Orbene se il primo album, come a volte capita per alcune bands, presentava una parte di brani riregistrati e una parte di brani nuovi, il secondo album "Abyss Calls Life" uscì nel 1996 e rappresenta il loro primo album di canzoni tutte nuove, con non poche differenze rispetto a MMZ, ispirato dal death metal old school. Questo ACL è un album che rispetto al debut risulta più melodico, più oscuro, meno veloce e ritmicamente nervoso, dal feeling più tragico, quasi black/dark per certi aspetti, ma anche molto più eclettico. È anche un album notevolmente curato a livello di riffs di chitarre e basso, con soprattutto quest'ultimo strumento che spesso sostiene egregiamente i riffs di chitarra. Ma per quanto ACL sia bello, non è un album ben riuscito come MMZ.
È chiaro che con questo disco i Necromass presero una direzione artistica più personale, non solo come distaccamento dalle ovvie influenze dei loro precedenti lavori, ma anche come stile, che a tratti qui fa fare capolino a una specie di proto avantgarde. E fu una bella evoluzione, riuscita, ma tuttavia che doveva ancora essere affinata. Sì perché abbiamo da un lato canzoni come "Vibrations Of Burning Splendour", dall'andamento medio, e con tinte dark e anche vagamente tragiche tenute insieme benissimo all'interno del brano anche per via di arrangiamenti eccellenti, o come l'inizio di "Bloodstorm Collide", vagamente con quel magico feeling che i primi Opera IX ci davano, o anche come la grande "A Serpent Is Screaming In The Abyss", drammatica a volte e maestosa in altri momenti. Il resto del disco però non è sugli stessi livelli, non brilla altrettanto bene, anzi riutilizza un po' certe idee musicali e anche i riffs, che pur non copiandosi stanno sempre sul solito stile per tutto il disco.
Ora il fatto è che quantificare questi difetti non è semplice per questo disco, perché ci troviamo di fronte ad una evoluzione da affinare e rimasta incompiuta visto che la band si sciolse di lì a poco, e punti di riferimento musicali a quel tempo ce n'erano pochi in Europa e pochissimi in Italia. Per questo motivo è difficile inquadrare la band, parlare di qualche potenziale contenuto in queste note, della loro concreta capacità di rivaleggiare la spadroneggiante Scandinavia, e della (ipoteticissima) possibilità di parlare della formazione di un'alternativa al sound scandinavo con queste note. Il metro di giudizio, quindi, non può che essere dato dal loro precedente lavoro, e rispetto a quello, ACL è meno riuscito, è un lavoro transitorio ancora in divenire, e per questo meno attuale di altre bands successive che hanno seguito e terminato un'evoluzione simile. Tra l'altro, è meno appetibile anche a livello di bonus tracks, visto che qui i Necromass ci propongono un demo del 1995 mai rilasciato, che comunque consiste semplicemente in due canzoni già pubblicate sulla versione standard di "Abyss Calls Life". E il tutto rinunciando per qualche strano motivo a includerci anche l'EP "Chrysalis' Gold", che è l'unica cosa della loro discografia non ristampata. A giudicare dal minutaggio, ci stava.
Insomma: un disco che risulta appetibile per capacità di songwriting anche se discontinue, per il valore storico, e per uno stile che non è affatto da buttare, sebbene segni il passo rispetto al bello "Mysteria Mystica Zothyriana". Il disco è consigliato alle stesse persone a cui avevo consigliato MMZ, e forse anche qualcosa di più, ma se avete i soldi per un solo cd dei due e doveste scegliere, vi consiglio di comprare MMZ per primo.
Track by Track
(An Animal) Forever

70

Vibrations Of Burning Splendour

90

Into The Warmth Of Darkness

70

Bloodstorm Collide

75

Unpure

75

Abyss Calls Life

70

A Serpent Is Screaming In The Abyss

90

Before To Obsess

S.V.

Vibrations Of Burning Splendour (demo 1995)

65

Bloodstorm Collide (demo 1995)

65
Giudizio Confezione
Qualità Audio:

80

Qualità Artwork:

70

Originalità:

85

Tecnica:

85
Recensione di
Snarl

»
pubblicata il --. Articolo letto
3089
volte.
Articoli Correlati