Death Mechanism «Mass Slavery» (2010)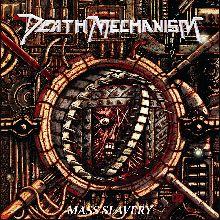 Autore:
Dust

»
Recensione Pubblicata il:
--
Visualizzazioni:
2043
Band:
Death Mechanism




Titolo:
Mass Slavery
Nazione:
Italia
Formazione:
Pozza:: Vox & Guitar
Daniele :: Bass
Manu :: Drums
Genere:
Durata:
47' 10"
Formato:
CD
Data di Uscita:
2010
Etichetta:
Distribuzione:
---
Agenzia di Promozione:
---
Recensione
I Death Mechanism, per gli appassionati di meal italiano non saranno sicuramente un nome nuovo, il trio infatti già da molti anni rilascia lavori sotto formati Demo e full length tutti decisamente di ottimo livello, di cui possiamo trovare molto materiale proprio sul fornitissimo database interno di Metalwave.
Ad aumentare lo spessore della band c'è da menzionare la presenza di nell'attuale formazione live dei Bulldozer, un altro nome che non ha certo bisogno di ulteriori presentazioni.
A questo punto è chiaro che il gruppo sa decisamente come muoversi e, per esperienza, posso dire che vantano un livello di performace live veramente invidiabile; finite le presentazioni che in questo caso sono d'obbligo, veniamo alla recensione di Mass Slavery, il loro nuovo album appena pubblicato dalla Jolly Roger Records che da sempre è un riferimento per il metal in lingua italiana, ma in questo caso ha giustamente pensato di aprirsi un po' all'inglese; questo album ripropone per intero il loro lavoro del 2008 con l'aggiunta di 4 nuovi brani in testa alla track list; le caratteristiche del sound sono praticamente rimaste invariate durante gli anni, in particolare lo stile del cantato non ha subito mutazioni rimanendo estremamente graffiante e aggressivo senza disdegnare scream che ne aumentano la violenza dell'interpretazione dei brani.
Il suono delle chitarre è veloce, riff frenetici e taglienti in puro stile thrash veramente estremo in perfetto accordo con la batteria martellante e dirompente su ogni passaggio. Il basso a mio avviso andava valorizzato un po' di più, ma la presenza riesce ad uscire perfettamente e regala un bellissimo intro in 'Extinction', la migliore dell'album, ovviamente riferito ai pezzi nuovi.
Fin qui direi che non c'è niente di nuovo rispetto al lavoro passato; quello che la band è riuscita ad aggiungere di completamente innovativo è però una varietà compositiva che rende i pezzi più elaborati e ricercati: pezzi rallentati e tempi dimezzati infatti riescono a conferire molta personalità ad ogni brano, cosa di cui i pezzi un po' più datati ne sono quasi sprovvisti risultando abbastanza piatti, anche se sempre buoni nel loro complesso.
Che dire, secondo me è estremamente difficile dare un giudizio ad un lavoro che in parte è già stato analizzato più di due anni fa, il nuovo materiale è veramente ottimo, ma mi sarebbe piaciuto moltissimo poter constatare la maturità acquisita in questo lasso di tempo e messa in evidenza solo in 4 pezzi...Speriamo che questo trio possa dare alla luce il più presto possibile dell'altro ottimo lavoro!
Track by Track
Mass Slavery

75

Extinction

80

Hydro Pregnancy

75

Bloody BusineSS

75

Anthropic Collapse

70

Necrotechnology

75

Blood Engine

70

Genuin - cide

65

Contaminated Soil

65

Unknown Pathology

70

A Good Reason to Kill

75

The Trail Path of Peace

65

War Mechanism

70

Slaughter in the Jet - Set

70
Giudizio Confezione
Qualità Audio:

70

Qualità Artwork:

60

Originalità:

65

Tecnica:

75
Recensione di
Dust

»
pubblicata il --. Articolo letto
2043
volte.
Articoli Correlati