Antigama «Intellect made us blind» (2002)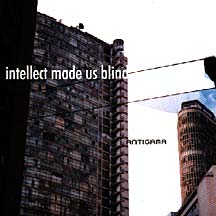 Autore:
HatewerK

»
Recensione Pubblicata il:
22.01.2013
Visualizzazioni:
2770
Band:
Antigama




Titolo:
Intellect made us blind
Nazione:
Polonia
Formazione:
TUKASZ - vocals
SEBASTIAN - guitars
MACIEK - bass
KRZYSZTOF - drums
Genere:
Durata:
30' 42"
Formato:
Data di Uscita:
2002
Etichetta:
Distribuzione:
---
Agenzia di Promozione:
---
Recensione
Gli ANTIGAMA vengono dalla lontana Polonia, ma il disco qui recensito è uscito sotto un'etichetta italianissima nel 2002, la The Flood di Milano, che si interessò al quartetto polacco dopo una serie di concerti a supporto di nomi abbastanza importanti nel giro del grind. Gli ANTIGAMA suonano un cupissimo, spietato e opprimente "avant-grind", formato da urla gutturali e distorte, una batteria intricata ma mai inintelligibile, anch'essa vicina alla soglia della distorsione, cambi di tempo come se piovesse e chitarre pesanti e impastate. Il tutto viene condito con un parsimonioso uso di sample (inseriti con molto gusto, devo dire) e con arrangiamenti che a volte sfociano in una sorta di "loops" che riportano alla mente una sorta di Pitchshifter prestati alle frange estreme del metal.
Il disco parte con una breve intro impostata in modo da accrescere la tensione per introdurre l'assalto sonoro che da lì a 59 secondi arriverà alle nostre orecchie, rispondente al nome di "a tendency to sleep": se i Fear Factory di "soul of a new machine" avessero abbracciato il verbo del grind invece di quello dell'hardcore, e avessero mangiato spesso pasta e fagioli insieme a Nasum e Dillinger Escape Plan, questo sarebbe stato il risultato! L'incipit della brevissima "Come+go" frena i tempi ma aumenta, se possibile, il senso di disagio, salvo poi esplodere in un loop di chitarre al limite del noise e una batteria epilettica. Il pezzo forte del disco secondo me sono le successive "spare some change" e "synthesis", definibili in una sola parola: malattia. Sono un condensato dell'essenza degli Antigama: batteria folle tra grind, crust, giri intricatissimi; riff che paiono non finire mai, una voce filtrata alla "where the slime lives", samples come se piovesse.. "everything is normal" rimane nel solco ormai tracciato, ma risulta più "groovy", per quanto groovy possa essere un brano degli Antigama (viene alla mente la scena di Ace Ventura che balla al concerto dei Cannibal Corpse!), mentre Il finale sfocia nel noise puro…
Il primo cambiamento si nota con la successiva "savoir vivre mastas", che tradisce pesanti influenze Napalm Deathiane, essendo molto più legata all'hardcore del resto dei brani; purtroppo se l'intento del brano in questione era quello di alleggerire per un attimo l'atmosfera, il risultato è invece quello di infastidire chi fosse entrato nella mentalità giusta per gustarsi questo disco.. Con "Filth and pain" si torna in carreggiata, riecco tra noi i giri di riff infiniti, e un rallentamento nella parte centrale da brividi…Purtroppo le urla scannate che chiudono il brano a volte generano ilarità invece di angoscia, rimane comunque il fatto che sti 4 polonacci NON stanno bene…
Il disco si chiude con "Fala", una cover di un gruppo chiamato "Siekiera", hardcore puro, e con "improv", un outro dedicata al noise e al rumore bianco. Peccato veramente per gli ultimi brani perché se il disco si fosse fermato prima di "savoir vivre…" sarebbe stato un discone da ricordare a lungo.
Nessuna (NESSUNA) concessione alla melodia, ritmiche serrate e molto fantasiose, il tutto però coperto da una coltre di fuliggine nera come il male. La produzione non è malvagia, anche se un po' impastata (ma probabilmente se il disco avesse avuto un suono più cristallino e definito non avrebbe restituito la stessa violenza), la tecnica individuale è molto alta (veramente bravo il batterista a non perdersi nei meandri di passaggi compressissimi e complessissimi ), però ripeto, qui la parola "estremismo" è perfettamente codificata, quindi se non siete pronti a contanto "stupro", pensateci due volte prima di premere "play".. e Se volete vivere quest'esperienza senza intralci, fermatevi alla traccia 6: dalla 7 in poi la qualità scende!
Track by Track
Pendemorphia (intro)

75

A tendency to sleep

85

Come + go

65

Spare some change

85

Synthesis

90

Everything is normal

70

Savoir vivre mastas

55

Filth and pain

65

Fala

60

Improv

75
Giudizio Confezione
Qualità Audio:

85

Qualità Artwork:

85

Originalità:

85

Tecnica:

80
Recensione di
HatewerK

»
pubblicata il 22.01.2013. Articolo letto
2770
volte.
Articoli Correlati