Elegy of Madness «Another Path» (2007)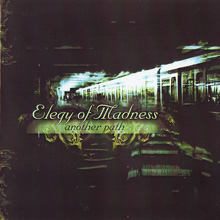 Autore:
Atoragon

»
Recensione Pubblicata il:
--
Visualizzazioni:
2065
Band:
Elegy of Madness



Titolo:
Another Path
Nazione:
Italia
Formazione:
Anja Irullo -Voce-
Tony Tomasicchio -Chitarre-
Alex Martina -Basso-
Marcello Lombardi -Tastiere-
Niko Spinelli -Batteria
Genere:
Durata:
26' 31"
Formato:
Data di Uscita:
2007
Etichetta:
Distribuzione:
---
Agenzia di Promozione:
---
Recensione
Questa band si presenta come gothic metal con voce femminile, anche se ascoltando anche in maniera superficiale questo promo emergono molte altre influenze, principalmente il power operistico alla Nightwish, ma anche thrash e progressive, di conseguenza sconsiglio di partire prevenuti aspettando di ritrovarsi di fronte all'ennesima band insipida e fatta con lo stampino. Gli Elegy of Madness ci presentano questo ep di quattro tracce, che potrebbero sembrare poche ma che a livello di tempo superano tutte i sei minuti, quindi il contenuto non manca, e anzi i pezzi risultano così articolati, a livello di riff, di parti strumentali, da perdere a volte il "filo del discorso" e risultare un po'dispersivi, ma mantenendo sempre una certa orecchiabilità ed un groove che sebbene non sia particolarmente trascinante dimostra in alcuni punti di essere inserito con cognizione di causa ricordando all'ascoltatore la matrice (a livello strumentale) del progetto. La voce operistica è gradevole, anche se decisamente troppo effettata e riverberata tanto da apparire in troppi punti "evanescente", troppo debole: se vuole emulare l'operato di Tarja, la cantante Anja deve assolutamente tirar fuori potenza, epicità, "cattiveria" e teatralità che anche in ambito lirico può e deve essere espressa per dare la marcia in più di cui la band ha bisogno. Per quanto riguarda l'operato degli altri strumenti invece il lavoro è piuttosto preciso, benchè la batteria mostri qua e là qualche passaggio poco "naturale" e le chitarre in sede solistica lascino emergere qualche stonatura che purtroppo nella precisione generale balza facilmente all'orecchio. Il mio consiglio è di lavorare sui pezzi per snellirli, per recuperare la forma canzone ed una certa fruibilità, e anche sulle melodie, trovarne alcune vincenti e lavorarci le canzoni attorno dato che spesso si ha la sensazione che i pezzi siano una elaborazone senza un nucleo, un avanzare alla cieca unendo parti una all'altra per allungare la minestra. Insomma un prodotto che mostra ancora una certa immaturità compositiva (tecnicamente invece ci siamo); concentrandosi di più sul dare un senso pezzi questo combo potrebbe ambire a molto di più. Rimandati a settembre.
Track by Track
Another Path

65

Voices

60

William Wallace

60

The Curse

50
Giudizio Confezione
Qualità Audio:

68

Qualità Artwork:

65

Originalità:

68

Tecnica:

70
Recensione di
Atoragon

»
pubblicata il --. Articolo letto
2065
volte.
Articoli Correlati