IRREVERENCE: presentano il nuovo album al Barrio's di Milano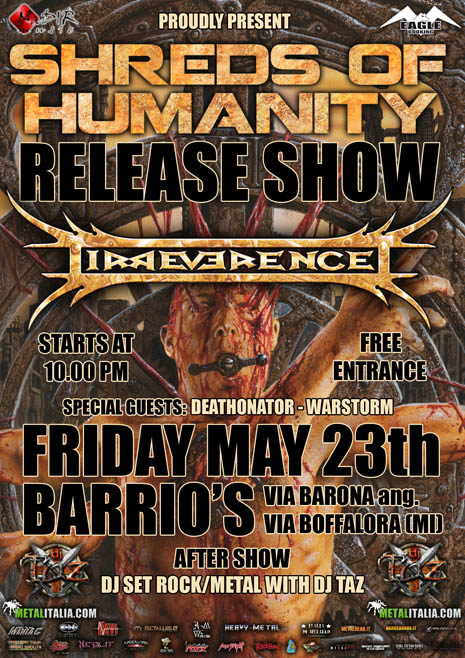 Sono ormai 20 gli anni di carriera, centinaia le date in tutta Europa e 5 album in studio, questi i numeri dei thrashers milanesi IRREVERENCE che a breve pubblicheranno il nuovo album "SHREDS OF HUMANITY" via NADIR MUSIC.
La band presenterà i nuovi brani in versione LIVE il 23 Maggio 2014 presso il Barrio's Cafè di Milano, per l'occasione saranno accompagnati dai DEATHONATOR e dai WARSTORM.
Per rendere davvero memorabile l'evento a fine serata il testimone passerà nelle mani di DJ TAZ, già resident di Alcatraz, Rolling Stone, Zoe e Tansilvanya, al quale verrà affidato il compito di proseguire la serata e portarla a compimento con le sue selezioni rock/metal fino a notte fonda.
L'evento è ad INGRESSO GRATUITO
Venerdì 23 Maggio 2014
IRREVERENCE "Shreds of Humanity" Release Party!
w/ DEATHONATOR, WARSTORM
Barrio's Cafè - Via Barona Ang. Via Boffalora, Milano (MI)
http://www.barrios.it
A fine concerti Djset ROCK/METAL con DJ TAZ
Evento Facebook:
http://www.facebook.com/events/237838959742388
INGRESSO GRATUITO
Apertura cancelli: ore 20:30
Ricordiamo che al Barrio's Cafè, dotato di un'ottima cucina, è possibile cenare o anche prendere un aperitivo a prezzi popolari.
EAGLE BOOKING LIVE PROMOTION
Web:
http://www.eaglebooking.com
MySpace
http://www.myspace.com/eaglebooking
Eagle on Youtube:
http://www.youtube.com/EAGLEBOOKING
Eagle on Facebook:
http://www.facebook.com/eaglebooking.italy
Eagle on Twitter:
http://www.twitter.com/EAGLE_BOOKING
Inserita da:
Jerico
il 30.04.2014 - Letture:
893
Articoli Correlati
Interviste
Live Reports
Spiacenti!

Non sono disponibili Live Reports correlati.
Concerti
Spiacenti!

Non sono disponibili concerti correlati.
Altre News di MetalWave