IRREVERENCE: aggiunti all'unica data italiana dei M.O.D.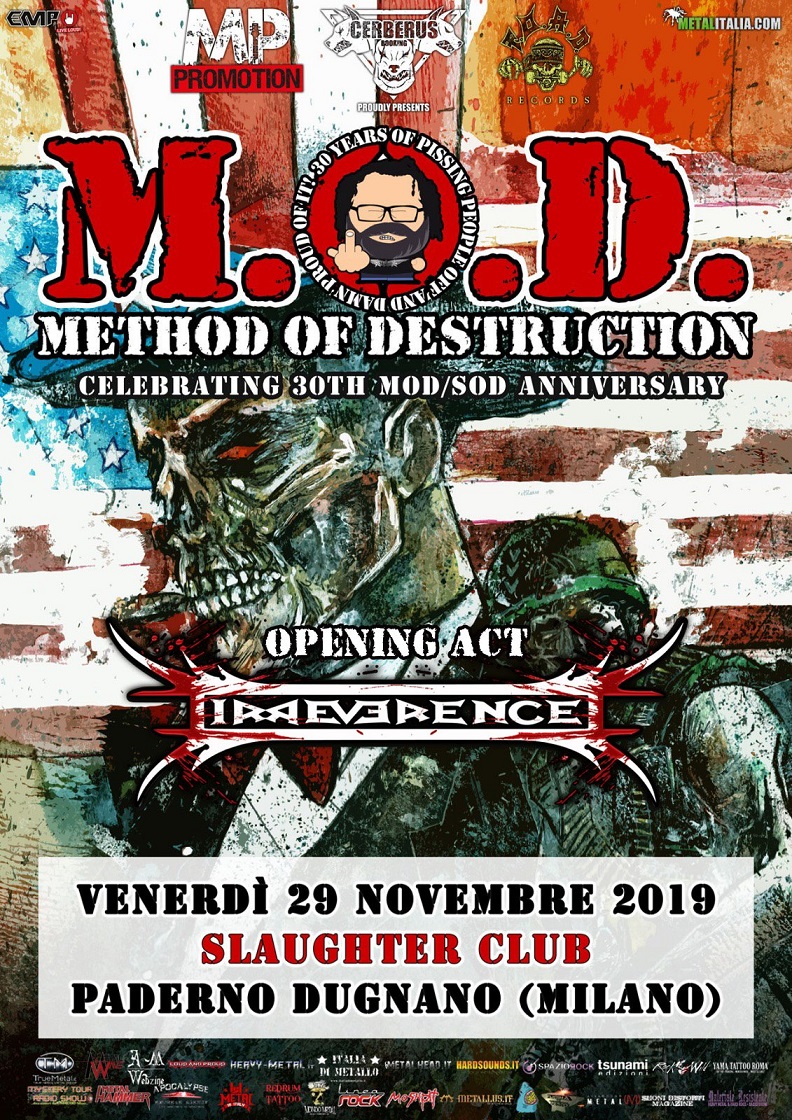 «Tritacarne, taglialegna, muratori…questi alcuni degli epiteti rivolti agli Irreverence durante il loro show. Ovviamente tutti questi "complimenti" vogliono dire una sola cosa: la band ha spaccato le ossa ai presenti, con una performance diretta e senza fronzoli.» Così esordiva nel lontano 2008 un articolo in cui si parlava di loro, dal noto portale Metalitalia.com. Sono gli IRREVERENCE! Thrash metal band con più di 20 di carriera, attualmente alle prese con i progetti per il futuro che verranno svelati a breve.
Nel frattempo il combo meneghino viene chiamato a presenziare all'unica data italiana degli M.O.D. (Method Of Destruction) di Billy Milano, nelle vesti di special guest.
L'appuntamento è per il 29 Novembre 2019 presso lo Slaughter Club di Paderno Dugnano.
A breve info su biglietti e orari.
Venerdì 29 Novembre 2019
M.O.D. (Method Of Destruction), IRREVERENCE + Guest
Slaughter Club – Paderno Dugnano (MI)
http://www.facebook.com/SlaughterClub
Evento Fb
https://www.facebook.com/events/368949237138049/
Info:
Cerberus Booking
http://www.cerberusbooking.com
http://www.facebook.com/cerberus.booking
Foad Records
http://www.foadrecords.it
http://www.facebook.com/foadrecords
MP Promotion
http://www.facebook.com/mppromotionital
Inserita da:
Jerico
il 25.07.2019 - Letture:
122
Articoli Correlati
Interviste
Live Reports
Spiacenti!

Non sono disponibili Live Reports correlati.
Altre News di MetalWave
Notizia Precedente
Notizia Successiva