HANORMALE: data di pubblicazione del nuovo album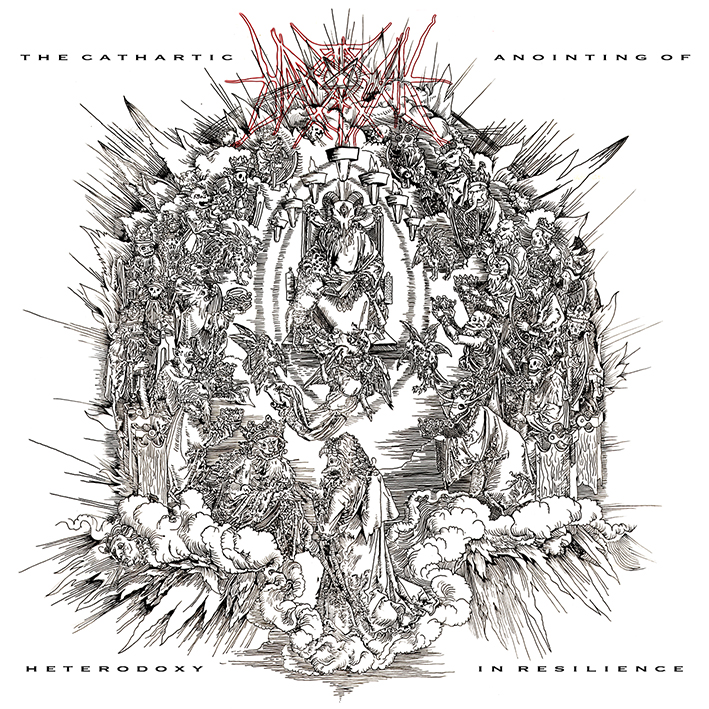 Segnatevi la data 05/05/2022, prevista per la tanto attesa uscita del IV album della 'Unconventional Black Metal' band HANORMALE:
THE CATHARTIC ANOINTING OF HETERODOXY IN RESILIENCE (A BLACK METAL RHAPSODY)
La stravagante opera sarà suddivisa in 9 capitoli:
0 - A R E C I B O Interstellar
1 - Siate la Stilla - con special guest G/Ab dei Deviate Damaen
2 - Homo Homini Deus/Porcus
3 - The Salaryman (with a Metal Drill Penis)
4 - Solipsism Nyctophilia - con special guest Lucia Amelia Emmanueli (Trewa, Monochrome the City)
5 - Meal of Jusice (revenge of the old dying Horse)
6 - Mamedanuki
7 - Kioku No Rekka, Sonzai No Owari
8 - Black Metal Rhapsody (Bohemian Rhapsody QUEEN cover, in a satanic way)
La label Giapponese ZERO DIMENSIONAL RECORDS (
http://www.zero-dimensional.com
) si occuperà della stampa e divulgazione del CD, Jewel Box arricchito dalle opere di Michele Varini, che si è anche occupato della illustrazione sulla copertina, trasfigurando il dipinto ' St John and the Twenty-four Elders in Heaven' di Albrecht Durer in una versione satanica
Se con il precedente 'Reborn in Butterfly' Hanormale vi aveva spiazzato, non resterete certo delusi dal nuovo operato, le stravaganze non mancheranno, come l'inserimento nella band di 3 batteristi, l'utilizzo di un innovativo metodo compositivo e la strumentazione non convenzionale
Questa è la completa line-up di THE CATHARTIC ANOINTING OF HETERODOXY IN RESILIENCE (A BLACK METAL RHAPSODY):
ARCANUS INCUBUS - synth, keyboards, programming, sampling. mellotron, taiko, glass armonica, harp, additional vocals, bass & guitars
STE NAKED - bass
DEIMOS - guitars
MARCO 'BIG FELLAH' ZAMBRUNI - extreme drums
MOX CRISTADORO - progressive drums
ALEMST - black metal & industrial drums (from Devoid of Thought)
ZRCADLO - violin & azza P.A.
ALDOUS 'BIG BOSS' COLCIAGO - deep vocals
ARGHANGEL MARTYRIUM 999 - screams & growl
STEFANO FERIAN - sax (from SYK)
DIE DREF RECUMRY -vocals on A R E C I B O Interstellar
VALTHAZAR - lead guitar on Meal of Justice & Black Metal Rhapsody
Recorded, mixed & mastered by Carlo Meroni (Schizo, Toxic Youth, Mortado, Irreverence, Imago Mortis) at ADSR DECIBEL Studio
DISCOGRAPHY:
2010 Oni Monogatari - Vomit Arcanus Productions
2015 天照大御神 - Dusktone
2019 Reborn in Butterfly - Dusktone
2020 Oni Monogatari, a Subsequent Decade - Dusktone
2022 The Cathartic Anointing of Heterodoxy in Resilience (a Black Metal Rhapsody) - Zero Dimensional
Contacts: info@zerodimensional.com
Inserita da:
Jerico
il 18.02.2022 - Letture:
762
Articoli Correlati
Interviste
Spiacenti!

Non sono disponibili Interviste correlate.
Live Reports
Spiacenti!

Non sono disponibili Live Reports correlati.
Concerti
Spiacenti!

Non sono disponibili concerti correlati.
Altre News di MetalWave
Notizia Precedente
Notizia Successiva