FROM THE DEPTH: nuovo singolo in uscita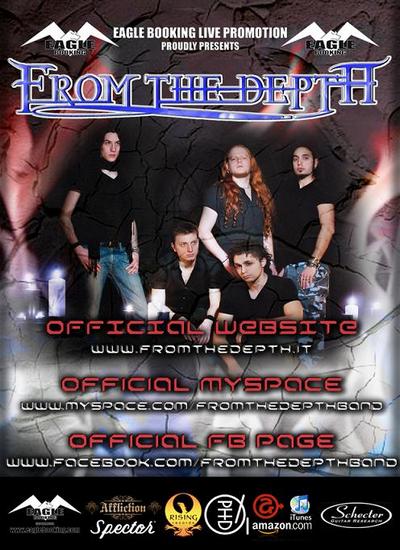 I FROM THE DEPTH dimostrano ancora una volta di essere una delle realtà più attive del nostro territorio. Dopo l'uscita del primo full length, il combo parmigiano ha intrapreso una serie di date promozionali, tra le quali ricordiamo quelle insieme ai RHAPSODY OF FIRE per il tour europeo, con i SEVENTH WONDER per quello italiano e la partecipazione al METALITALIA.com FESTIVAL lo scorso 5 maggio. Attualmente la band è in studio per registrare la versione acustica di "Nothing To You", brano già presente in "Back To Life".
Secondo quanto dichiarato dalla band Il brano vuole essere un regalo per tutti coloro che li hanno seguiti e supportati fino ad oggi e verrà quindi distribuito in download gratuito dal sito ufficiale.
Al seguente indirizzo è possibile ascoltare la versione originale del pezzo.
I FROM THE DEPTH si esibiranno il prossimo 12 maggio 2012 presso "Le Club" di genova con Winterage e Drachenblut
Per info riguardo alle release, ordinare i cd o il merchandise ufficiale, mp3, live dates, news e tutto quanto concerne i FROM THE DEPTH è possibile contattare direttamente la band tramite gli spazi web ufficiali:
FROM THE DEPTH Official Web site:
http://www.fromthedepth.it/
FROM THE DEPTH Official Myspace Page:
http://www.myspace.com/fromthedepthband
FROM THE DEPTH Official Fb Page:
http://www.facebook.com/fromthedepthband
Inserita da:
HeavyGabry
il 11.05.2012 - Letture:
1453
Articoli Correlati
Interviste
Spiacenti!

Non sono disponibili Interviste correlate.
Live Reports
Spiacenti!

Non sono disponibili Live Reports correlati.
Concerti
Spiacenti!

Non sono disponibili concerti correlati.
Altre News di MetalWave
Notizia Precedente
Notizia Successiva