ARTICOLO 1: i dettagli dell'edizione 2013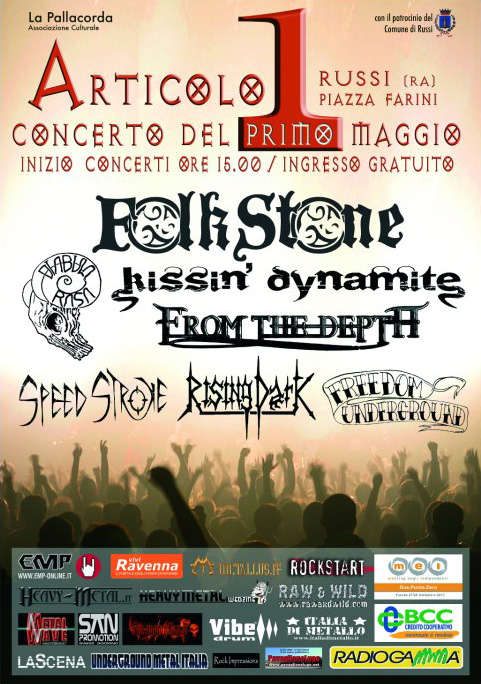 L'associazione culturale "La Pallacorda", in collaborazione con il comune di Russi, con il contributo della Regione Emilia Romagna e della provincia di Ravenna,
è lieta di annunciare la bill completa della settima edizione di "Articolo Uno, concerto del 1° maggio" che, come tutti gli anni, si terrà in Piazza Farini, a Russi (RA).
L'edizione di quest'anno vedrà come protaganisti gli alfieri del folk metal italiano Folkstone, prima di loro avremo come co-headliner i tedeschi Kissin' dynamite, rivelazione nell'ambito glam, ed i Diabula Rasa band romagnola dedita a sonorità medieval-rock.
Durante il pomeriggio invece, si esibiranno: From the Depth (power metal), Speed Stroke (glam rock/metal), Rising Dark (Thrash Metal), Fredoom Underground (R'n'R).
Il concerto, come tutti gli anni, sarà gratuito ed inizierà alle ore 15:00.
Riassumendo :
ARTICOLO UNO CONCERTO DEL PRIMO MAGGIO:
FOLKSTONE (It)
KISSIN' DYNAMITE (De)
DIABULA RASA (It)
FROM THE DEPTH
SPEED STROKE
T.B.A.
RISING DARK
FREDOOM UNDERGROUND.
Inizio concerti ore 15:00
01 maggio 2013, Piazza Farini, Russi (RA)
INGRESSO GRATUITO
Inserita da:
Jerico
il 08.04.2013 - Letture:
1659
Articoli Correlati
Altre News di MetalWave
Notizia Precedente
Notizia Successiva