ATLAS PAIN: nuovi appuntamenti dal vivo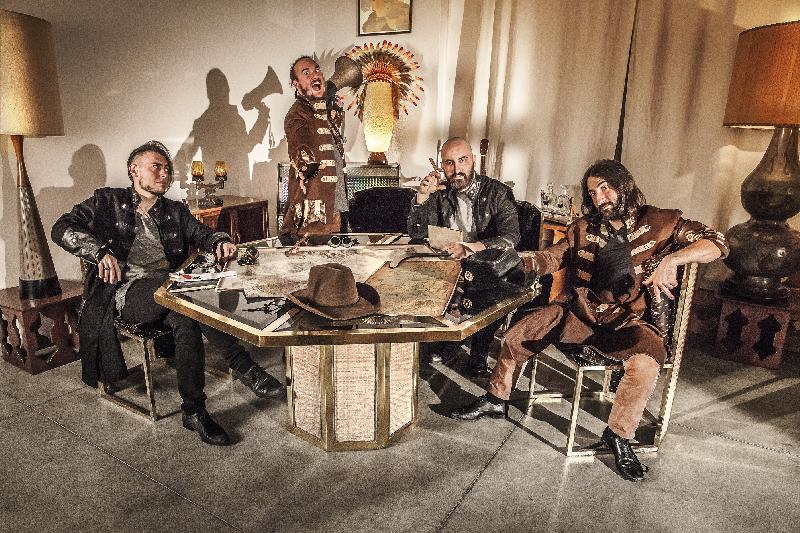 Nuovi appuntamenti dal vivo per l'epic-pagan metal band ATLAS PAIN, che sarà sui palchi della nostra penisola e non solo. Annunciati oggi i primi tre concerti, per un calendario in continuo aggiornamento: il primo è sabato 21 dicembre allo Scarlet Records Fest presso Legend Club di Milano assieme a Vision Divine, Frozen Crown e Skeletoon, segue poi la tappa estera da headliner presso Assembleia Do Metal, Viseu in Portogallo, e un altro concerto italiano al Pagan Fest presso Arci Tom di Mantova in compagnia (tra gli altri) di Elvenking e Furor Gallico.
ATLAS PAIN vantano circa un milione di streams su Spotify e porteranno dal vivo il secondo full length 'Tales Of A Pathfinder' uscito lo scorso aprile per Scarlet Records, che ha permesso loro di esibirsi in alcuni fra i maggiori festival europei.
Da citare i singoli Kia Kaha, The Moving Empire, il cui lyric video è stato affidato nelle mani di Scott Rudd forte di collaborazioni con artisti del calibro di Opeth, Fear Factory e Rings Of Saturn e l'ultimo Hagakure's Way.
Portavoce di un pagan metal dal forte carattere epic, la formazione meneghina è attiva dal 2013, debutta un anno dopo con una prima demo, seguita dall' EP 'Behind The Front Page'. Nel 2017 firma con Scarlet Records per la pubblicazione del primo album 'What The Oak Left' che entra in classifica iTunes Metal e riceve la nomination 'Album of The Month' da Rock Hard Italy.
Fan di Ensiferum, Equilibrium e Wintersun ne rimarranno entusiasti.
http://www.atlaspain.it
http://www.facebook.com/AtlasPain
ATLAS PAIN
'Tales Of A Pathfinder'
Sabato 21 dicembre - Scarlet Records Fest, Legend Club - Milano
Biglietti € 10 + prev. / € 12 in cassa la sera del concerto
http://bit.ly/ScarletRecordsFestTickets
Sabato 28 dicembre - Assembleia Do Metal, Viseu - Portogallo
Headlining show!
Biglietti € 10 + prev.
Sabato 14 Marzo 2020 - Pagan Fest III edizione, Arci Tom - Mantova
Biglietti € 12 + prev. / € 17 in cassa
Inserita da:
Jerico
il 30.10.2019 - Letture:
785
Articoli Correlati
Interviste
Spiacenti!

Non sono disponibili Interviste correlate.
Live Reports
Spiacenti!

Non sono disponibili Live Reports correlati.
Concerti
16 Lug. 2022

LUPPOLO IN ROCK 2021: Ensiferum + Turisas + Moonsorrow + Furor Gallico + Atlas Pain @ "Parco Ex Colone Padane", Cremona (CR)
Altre News di MetalWave
Notizia Precedente
Notizia Successiva