Skanners «Factory Of Steel» (2011)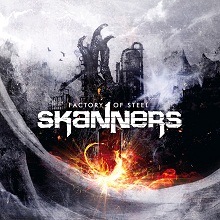 Autore:
carnival creation

»
Recensione Pubblicata il:
--
Visualizzazioni:
2440
Band:
Skanners



Titolo:
Factory Of Steel
Nazione:
Italia
Formazione:
Claudio Pisoni - vocals
Fabio Tenca - guitars
Walther Unterhauser - guitars
Dino Lucchi - bass
Christian Kranauer - drums
Genere:
Durata:
41' 31"
Formato:
CD
Data di Uscita:
2011
Etichetta:
Distribuzione:
---
Agenzia di Promozione:
---
Recensione
Era esattamente il 1982 quando una giovanissima band del nostro bel paese iniziava una carriera che sarebbe diventata incredibilmente lunga, arrivano a toccare anche l'allora impensabile 2011. Il loro nome era Skanners e, dopo una demo datata 1983, rilasciarono il loro primo disco, "Dirty Armada". Era il 1986 ed il sottoscritto aveva soltanto un anno. Beh, il tempo è passato e con esso anche tanti problemi più o meno gravi che gli Skanners hanno vissuto, ma mai in una sola volta hanno pensato di lasciar perdere tutto ed hanno stretto i denti continuando ad essere una delle stelle dell'heavy metal del nostro paese, una band che non ha nulla da invidiare nemmeno alle stelle più grandi ed ancora di meno in quest'ultimo periodo musicale internazionale!
Ultima fatica quindi per gli Skanners. Si chiama "Factory Of Steel". Un nome molto "metallaro" che richiama una musica molto "metallara" senza enormi e pompose pretese, per cui ho ascoltato con estremo piacere il materiale che i nostri hanno da poco rilasciato.
Il mio consiglio di fare vostro questo disco è imperativo: non bastano plurime audizioni per rendersi conto di che buonissimo disco i nostri siano stati capaci di creare, nonostante il genere abusato e stuprato da molti anni. Mi sono stupito di vedere che c'è della scuola tedesca nel sound della band, così come i taglienti e ottimi riff non possono troppo essere accostati al suono tipico inglese. C'è meno pomposità e più rock 'n roll, ossia il tratto che preferisco in una band che suona power/heavy. Claudio Pisoni dietro al microfono sembra essere in perfetta forma e nessuno degli altri competenti musicisti si ritrova scalfito nell'abilità, nemmeno dopo tanti anni e la nitidissima produzione rende onore al massimo ad ogni nota e ad ogni ritmo.
C'è tutto quello che occorre, ogni altra parola è superflua. Fate vostro questo discone. Merita!
Track by Track
Never Give Up

65

Iron Man

80

Factory Of Steel

70

Hard And Pure

65

Thunder In My Hand

65

Story Of Sound

75

We Rock The Nation

75

Lords Of Lies

75

When I Look In Your Eyes

80

To Survive

80
Giudizio Confezione
Qualità Audio:

80

Qualità Artwork:

60

Originalità:

70

Tecnica:

80
Recensione di
carnival creation

»
pubblicata il --. Articolo letto
2440
volte.
Articoli Correlati