WACKEN OPEN AIR 2017: le band confermate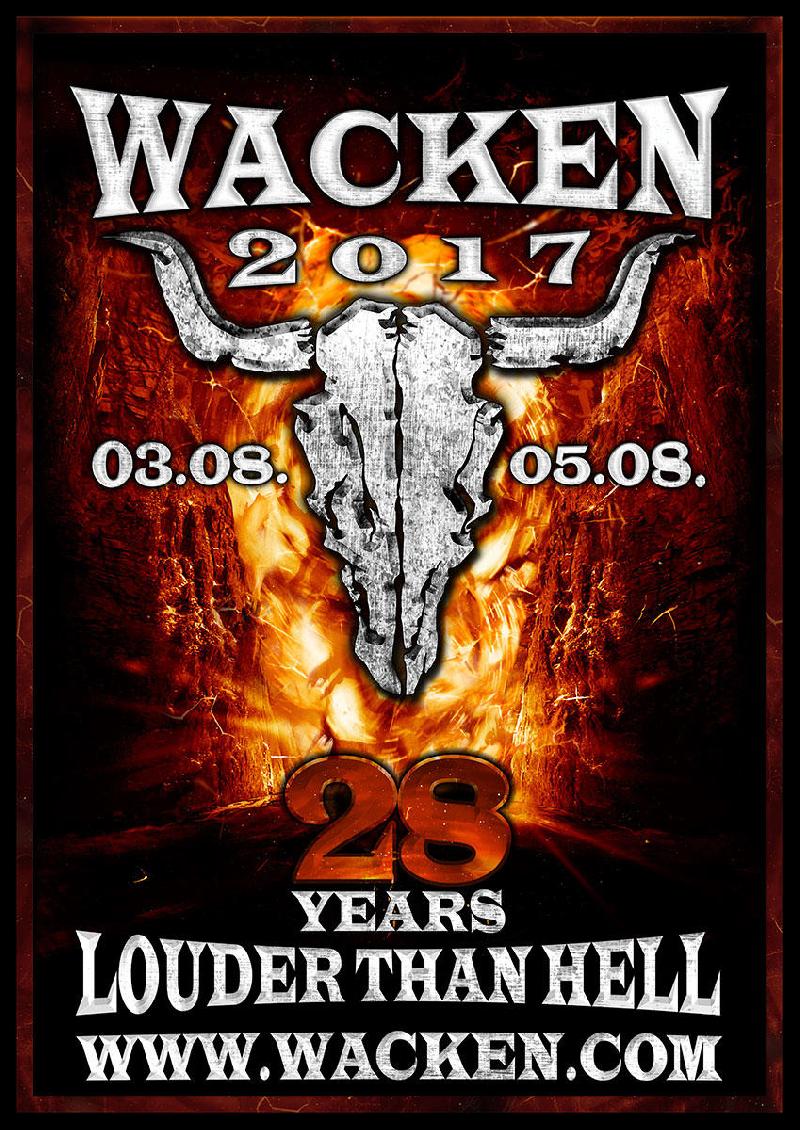 Come ogni anno dal 03 al 05 agosto si svolgera il Wacken Open Air a Wacken (Ger).
Il festival è sold out come suo solito, sono disponibili on line liste di attesa in seguito a rinunce last minute o per ordini bloccati e non pagati. A questo link è possibile inserisi in lista:
http://www.wacken.com/en/shop/ticket-reservations/
Di seguito le band confermate.
Aborted Accept Aeverium Ahab Alice Cooper Amon Amarth Annihilator Apocalyptica Architects ASP Asrock Aura Noir Avantasia Bai Bang Batushka BerlinAllstarz Live Karoke Beyond The Black Blaas of Glory Blechblosn British Lion Brujeria Candlemass Charlie Harper Clawfinger Corvus Corax Crowbar Cypecore Dawn of Disease Dog Eat Dog Domination Emil Bulls Emperor
Ereb Altor Europe Evil Scarecrow Fates Warning Fit For An Autopsy Flotsam and Jetsam
Fuchsteufelswild Ganaim Grand Magus Grave Digger Hämatom Harpyie Heaven Shall Burn Heimataerde Heldmaschine Hell-O-Matic Henry Rollins High Fighter Imperium Dekadenz Insomnium J.B.O. Jet Jaguar Johnny Deathshadow Kadavar Kaiser Franz Josef Kärbholz Katatonia Kissin Dynamite Kreator Kryptos Lacuna Coil Lords of Black Mambo Kurt Marilyn Manson
Max & Iggor Cavalera return to Roots Mayhem Megadeth Megalodon Memoriam
Morbid Angel Mr. Irish Bastard Napalm Death Nile Null Positiv nulldB Omnium Gatherum
Orange Goblin Pampatut Paradise Lost Phil Rind - Spoken Word Possessed Powerwolf
Primal Fear Prong Psychotic Waltz Rage Rampart Ross The Boss Russkaja Sacred Reich Saltatio Mortis Sanctuary SAOR Patrol Serenity Shawn James & The Shapeshifters Skalmöld Skorbut
Skull Fist Skyline Snoozebutton Soilwork Sonata Arctica Soulless Faith Stahlmann Status Quo Steak Number Eight Stinger Sub Dub Micromachine Subway To Sally Taina Tankard Tears for Beers Tengger Cavalry The Amity Affliction The Boomtown Rats The Dillinger Escape Plan
The Dolmen The Headcat The Hirsch Effekt The Kroach The Oreillys and the Paddyhats
The Wild Lies Thundermother Trivium Turbobier Turbonegro Tuxedoo TV Smith & Vom Ritchie
Twilight Force Ugly Kid Joe UK Subs Uli Jon Roth Une Misere Verge of Umbra Versengold Victims Of Madness Volbeat Vorbid W:O:A Firefighters Waldkauz
Walls of Jericho Warpath Warrant Whiskey Dick WirrWahr Witchery Wolfbrigade
Wolfchant Wolfheart
Tutte le informazioni le trovate qui:
http://www.wacken.com
Inserita da:
Jerico
il 29.06.2017 - Letture:
2096
Articoli Correlati
Interviste
Spiacenti!

Non sono disponibili Interviste correlate.
Live Reports
Spiacenti!

Non sono disponibili Live Reports correlati.
Concerti
Spiacenti!

Non sono disponibili concerti correlati.
Altre News di MetalWave