THE BIG SOUTH MARKET: firmano per RED CAT PROMOTION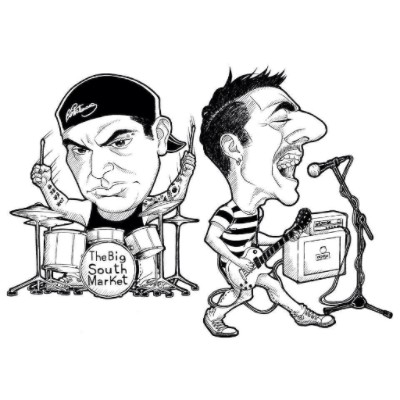 Red Cat Promotion è felice di annunciare l'entrata della band THE BIG SOUTH MARKET nel proprio roster per la promozione del loro Ep d'esordio, che sarà pubblicato nel mese di NOVEMBRE 2016.
Il disco sarà presto disponibile in Italia e nel mondo in tutti i principali store on line tramite The Orchard.
I The Big South Market sono un duo hard rock italiano, formatosi a Barletta e composto da Giuseppe Chiumeo (chitarra, voce) e Ruggiero Ricco (batteria).
La band, nata nel 2015, ha già collezionato numerosi concerti nei club di tutta Italia, prima di registrare "Muzak", un Ep di 5 tracce caratterizzato da influenze stoner e riff di matrice southern rock. Il disco è stato registrato e mixato nel 2016 da Giuseppe Dentamaro presso il Golem Dungeon Studios (Bari, IT).
Ruggiero Ricco è batterista e membro stabile della trash metal band italiana "Cancrena" (Underneath EP, 2007, Vision Metal Rec. – Hidden Depravity, 2012, Logic Illogic). Ha partecipato a diversi festival internazionali, tra cui il Wacken Open Air 2011 come batterista dei "Golem". Nel 2010 si è esibito con i "The Dogma" come supporting act per il tour europeo dei "Lordi", e durante il 2013 ha partecipato con i "Golem" al "The Industrialist Russian Tour" a fianco dei "Fear Factory".
Giuseppe Chiumeo è chitarrista, cantante, fondatore della band crossover "The Rest Side" (The rough core of things, 2011, Tarock / Black Nutria, prodotto da Alessandro Paolucci , storico bassista dei Raw Power). Negli anni ha diviso il palco con artisti di caratura internazionale come One Minute Silence, Blonde Redhead , Verdena , Browbeat , GF93 , Sacrum.
CONTATTI BAND:
FACEBOOK:
http://www.facebook.com/thebigsouthmarket
TWITTER:
http://www.twitter.com/tbsmofficial
INSTAGRAM:
http://www.instagram.com/thebigsouthmarket
YOUTUBE:
http://bit.ly/2bBwDD7
SOUNDCLOUD:
http://www.soundcloud.com/the-big-south-market
REVERBNATION:
http://www.reverbnation.com/thebigsouthmarket
LABEL:
web:
http://www.redcatpromotion.com
e-mail: alice@redcatpromotion.com
Inserita da:
Jerico
il 24.09.2016 - Letture:
965
Articoli Correlati
Interviste
Spiacenti!

Non sono disponibili Interviste correlate.
Live Reports
Spiacenti!

Non sono disponibili Live Reports correlati.
Concerti
Spiacenti!

Non sono disponibili concerti correlati.
Altre News di MetalWave