ANEWRAGE: tutti i prossimi appuntamenti dal vivo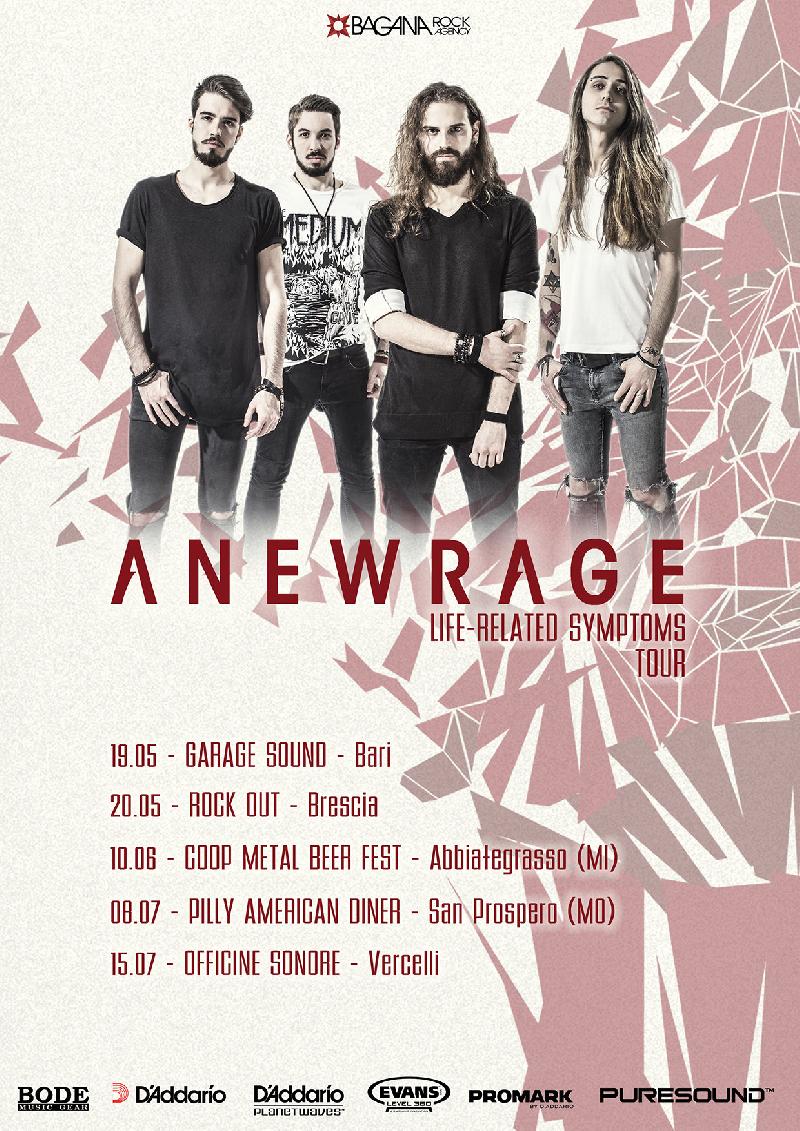 Continuano gli appuntamenti dal vivo per ANEWRAGE, reduci da una data di incredibile successo che li ha visti opener dei TWELVE FOOT NINJA al Legend Club di Milano, sabato scorso.
Dopo Torino, Roma, Cremona e la provincia di Frosinone, il quartetto sarà dal vivo il prossimo 19 maggio a Bari per essere in provincia di Brescia il giorno dopo. Parteciperanno poi al Coop Metal Beer Fest a giugno prima di sbarcare in United Kingdom per sei date dal 24 giugno. A seguire un paio di spostamenti per Modena e Vercelli.
Questo il calendario aggiornato delle date italiane:
19/05 GARAGE SOUND, Bari >
https://goo.gl/kxYt2U
20/05 ROCK OUT, Cazzago San Martino (BS) >
https://goo.gl/hqBsSc
10/06 COOP METAL BEER FEST, ABBIATEGRASSO (MI) >
http://bit.ly/2qRXHRC
08/07 PILLY AMERICAN DINER CAFE', S. Prospero (MO) >
http://bit.ly/2pq7RbQ
15/07 OFFICINE SONORE, Vercelli >
https://goo.gl/YIs1gK
Di seguito i sei appuntamenti in UK di fine giugno:
24/06 WHITCHURCH, PERCY'S - UNITED KINGDOM
25/06 BOLTON, THE ALMA INN - UNITED KINGDOM
27/06 DARWEN, SUNBIRD RECORDS - UNITED KINGDOM
28/06 SHEFFIELD, MULBERRY TAVERN - UNITED KINGDOM
29/06 BIRMINGHAM, SUBSIDE - UNITED KINGDOM
30/06 EVESHAM, THE IRON ROAD - UNITED KINGDOM
Due sono i video ufficiali già estratti ad oggi: un lyric per la traccia "Outside" (
https://www.youtube.com/watch?v=Exqynr4OocU
) e un official videoclip della traccia numero uno del nuovo album "Upside Down" (
https://www.youtube.com/watch?v=leUMb7D63hg
), uscito lo scorso 30 marzo.
Il nuovo album "Life-Related Symptoms" è stato definito come un disco stilisticamente variegato, complesso, come il più emozionale, oscuro e misterioso di sempre, con alcune tra le più belle canzoni mai scritte da parte della band. Tredici brani, canzoni catchy, capaci di offrire molteplici chiavi di lettura.
BIOGRAFIA
Formati nel 2009 nel Nord Italia, Anewrage propongono un potente mix di alternative metal e post-grunge, con una micidiale ed esplosiva attitudine live.
Dopo la release dell'album di debutto "ANR" nel 2014, la band ha raggiunto diversi traguardi importanti, condividendo palchi con artisti internazionali del calibro di Gamma Ray, Freak Kitchen, UFO, Dreamshade e Destrage, tra gli altri.
Il teaser del disco è stato uno dei finalisti al SXSW Design Award in Austin (Texas), in mezzo ad importanti nomi e pezzi grossi quali Pacific Rim, The Lego Movie, The Last of Us e altri grandi progetti. Il singolo " Ape's Legacy" è stato in heavy rotation su Rock TV Italy e A One (Ucraina).
Nel 2016 Anewrage firma con Scarlet Records e rilascia "Nina", traccia inedita contenuta nella ristampa "ANR - Deluxe Edition" che conquista da subito alta rotazione all'interno dei canali appena citati. 'Life-Related Symptoms', il nuovo album, vedrà luce ad aprile 2017.
http://www.anewrage.com
http://www.facebook.com/ANEWRAGE
Tutte le tappe del tour sul sito di Bagana Rock Agency
Inserita da:
Jerico
il 08.05.2017 - Letture:
776
Articoli Correlati
Interviste
Spiacenti!

Non sono disponibili Interviste correlate.
Live Reports
Spiacenti!

Non sono disponibili Live Reports correlati.
Concerti
Spiacenti!

Non sono disponibili concerti correlati.
Altre News di MetalWave
Notizia Precedente
Notizia Successiva