DESTRAGE: le prime date del tour "A Means To No End"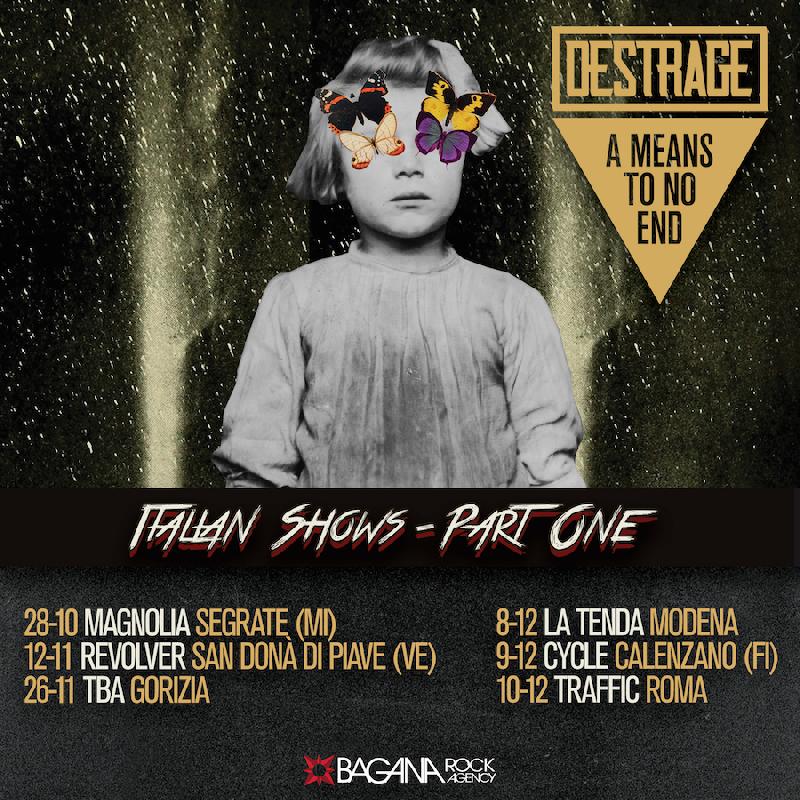 Il prossimo 21 Ottobre i DESTRAGE pubblicheranno "A Means To No End" il quarto capitolo della discografia della band. Bagana Rock Agency è orgogliosa di annunciare la prima parte del tour italiano della band.
Dopo il Release Party previsto per il 28 Ottobre al Magnolia di Milano, saranno cinque gli imperdibili appuntamenti live con i DESTRAGE. Si inizia il 12 novembre al Revolver di San Donà di Piave (VE), fino al 10 dicembre al Traffic di Roma, passando per Gorizia, Modena e Calenzano (FI). Questa sarà solo la prima parte del tour che poi proseguirà ad inizio 2017.
DESTRAGE - "A Means To No End" Italian Shows - Part One
28/10 @ Circolo Magnolia, Segrate (MI) - Release Party
12/11 @ Revolver, San Donà di Piave (VE)
26/11 @ TBA, Gorizia
08/12 @ La Tenda, Modena
09/12 @ Cycle, Calenzano (FI)
10/12 @ Traffic, Roma
Info su biglietti e prevendite a breve
booking@baganarock.com
http://www.baganarock.com
"A Means To No End" è il quarto studio album dei Destrage e si presenta come un grande passo in avanti nel sound della band. Le parole di Matteo Di Gioia: "Abbiamo sfidato noi stessi senza abbandonarci a ciò che sappiamo di poter fare. Questa volta volevamo scrivere un album compatto". Questo nuovo capitolo segue il successo di "Are You Kidding Me? No." del 2014 che ha proiettato la band tra le eccellenze del metal mondiale. "La cosa peggiore che possa accadere a una band è quella di diventare l'ombra di se stessa. Sapevamo che ogni possibile ripetizione di "Kidding" sarebbe stata disonesta. Quindi abbiamo preso un'altra via, concentrandoci su ciò che sentivamo in quel momento. Un album è, prima di tutto, un ritratto di famiglia, un racconto del proprio tempo".
SYMPHONY OF THE EGO Lyric Video ->
https://youtu.be/UmPtpO61yLc
Inserita da:
Jerico
il 15.10.2016 - Letture:
715
Articoli Correlati
Interviste
Live Reports
Spiacenti!

Non sono disponibili Live Reports correlati.
Concerti
Spiacenti!

Non sono disponibili concerti correlati.
Altre News di MetalWave