DISSONANCE 2023: tutti i nomi del Festival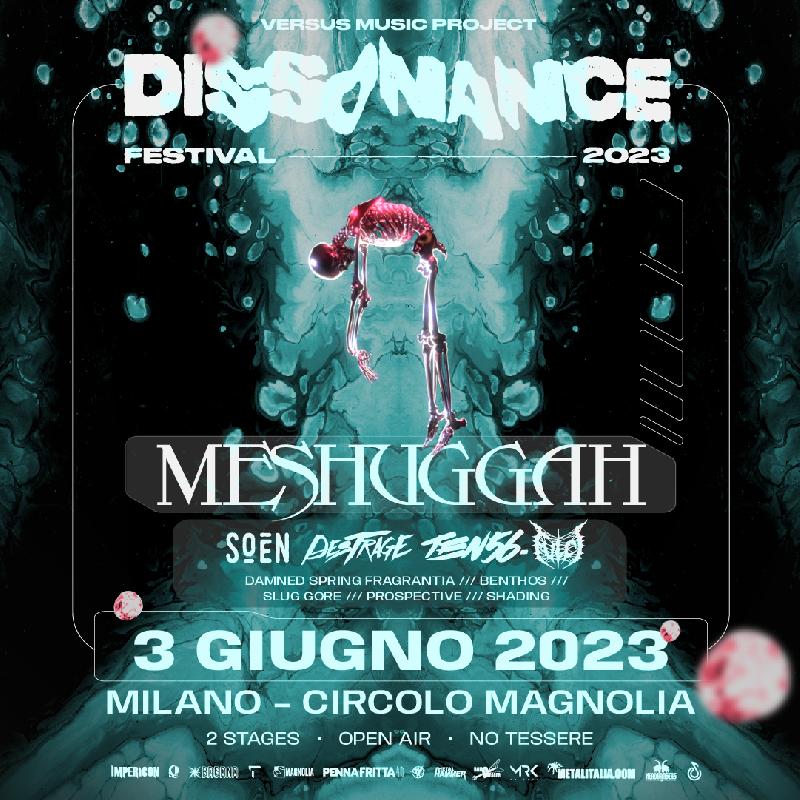 Versus Music Project, in collaborazione con Bagana, Trivel e Plasma Concerti, è felice di presentare tutti i nomi della nona edizione del Dissonance Festival, appuntamento milanese con il metal moderno italiano ed internazionale in programma quest'anno al Circolo Magnolia di Milano sabato 3 giugno.
Il cast già stellare del festival, coronato da artisti come Meshuggah, Soen, Destrage e Fulci, si completa con l'aggiunta delle ultime tre formazioni: i francesi Ten56, che accogliamo finalmente con un nuovo album dopo che un acquazzone aveva negato loro il palco del festival nel 2022, i portabandiera del djent italiano Damned Spring Fragrantia, che festeggeranno in esclusiva al Dissonance il decennale del loro seminale album "Divergences", ed infine gli Slug Gore, per gli amanti delle sonorità più estreme.
I biglietti per il festival (46€) sono disponibili solo su Ticketone e Mailticket:
https://linktr.ee/dissonancefestival
Di seguito tutti i dettagli dell'evento:
Sabato 3 Giugno 2023
Milano - Circolo Magnolia
Via Circonvallazione Idroscalo 41, 20090 Novegro
Open air - 2 palchi
Meshuggah (SWE - Atomic Fire)
Soen (SWE - Silver Lining Music)
Destrage (ITA - 3DOT Recordings)
Ten56 (FRA - Out Of Line)
Fulci (ITA)
Damned Spring Fragrantia (ITA) - 10 years of "Divergences" set
Benthos (ITA)
Slug Gore (ITA)
Prospective (ITA)
Shading (ITA)
Per gli show estivi al Circolo Magnolia NON è necessaria alcuna tessera.
Vorresti partecipare all'evento e cerchi amici che ti accompagnino? Scarica l'app Sounder
http://www.sounder.app,
crea il tuo gruppo evento e conosci nuove persone con cui condividere le emozioni del concerto!
Partner ufficiali: Sounder, MRK Guitars, Impericon Italia, Penna Fritta, Metal Hammer, Metalitalia, Headbangers Pub, Band Dealer.
Hashtag ufficiale: #Dissonance2023
Seguici su Instagram: @dissonance.festival @versus.music.project
Info: versus.music.agency@gmail.com
Inserita da:
Jerico
il 27.04.2023 - Letture:
164
Articoli Correlati
Altre News di MetalWave
Notizia Precedente
Notizia Successiva