FUROR GALLICO: dal vivo allo Strigarium venerdì 11 Giugno 2021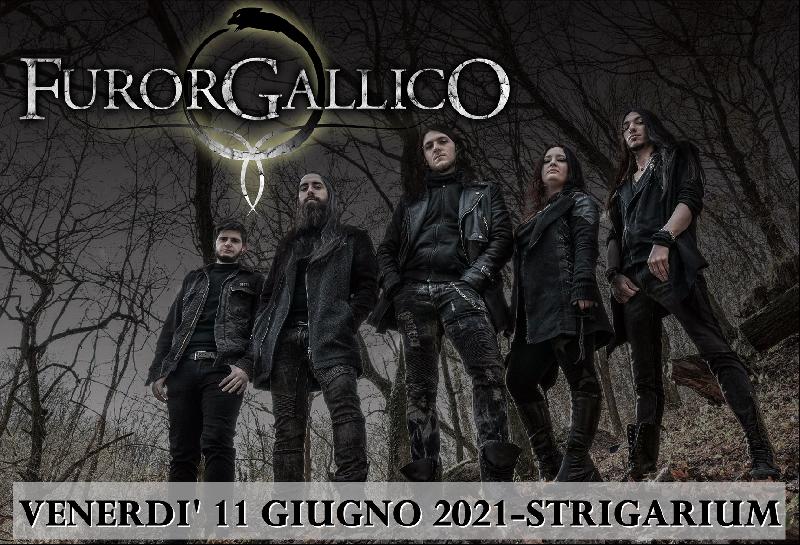 Tornano finalmente dal vivo i Furor Gallico, una delle realtà folk metal più interessanti di tutta la penisola: la formazione sarà sul palco dello Strigarium 2021 di Costa Volpino (BG) venerdì 11 giugno, ad ingresso gratuito.
"Dusk Of The Ages" è l'ultimo progetto discografico della band rilasciato a gennaio 2019 da Scarlet Records, che vanta un'ampia gamma di collaborazioni di rilievo, tra le quali la produzione di Ralph Salati (Destrage), il mix di Tommy Vetterli (Eluveitie, Coroner, Kreator) e il mastering di Jens Bogren (Opeth, Amon Amarth, Dimmu Borgir). Il disco è arricchito dalla copertina di Kris Verwimp (Arch Enemy, Marduk, Vital Remains).
Tre i singoli estratti dal nuovo lavoro: il lyric video The Phoenix
https://youtu.be/OqpabvlRXZg,
la clip ufficiale Waterstrings
https://youtu.be/2mLMVbQ3Pc8
e Canto d'Inverno, uscito dopo la pubblicazione dell'album, che ha superato 3 milioni di visualizzazioni su YouTube.
I Furor Gallico nascono nel 2007 con l'obiettivo di fondere riff e vocalità metal con la musica tradizionale celtica, irlandese e bretone. Dopo oltre 300 esibizioni dal vivo in Italia e all'estero, la formazione si è affermata tra le band folk metal più note del paese, consolidando la propria fan base in continua crescita e ricevendo enormi consensi anche in Francia, Germania, Svizzera e non solo.
http://www.furorgallico.it
http://www.facebook.com/FurorGallicoOfficial
FUROR GALLICO
Ven 11 giugno 2021 - Strigarium 2021 - Costa Volpino (BG)
Ingresso gratuito
Info
http://www.facebook.com/Strigarium
Inserita da:
Jerico
il 21.04.2021 - Letture:
384
Articoli Correlati
Interviste
Spiacenti!

Non sono disponibili Interviste correlate.
Live Reports
Spiacenti!

Non sono disponibili Live Reports correlati.
Altre News di MetalWave
Notizia Precedente
Notizia Successiva