Destrage «The King Is Fat'n Old» (2010)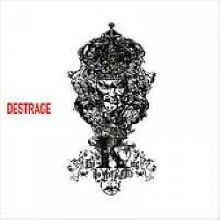 Autore:
fabio HC

»
Recensione Pubblicata il:
--
Visualizzazioni:
2353
Band:
Destrage





Titolo:
The King Is Fat'n Old
Nazione:
Italia
Formazione:
Matteo Di Gioia:: Chitarra
Ralph Salati:: Chitarra
Gabriel Pignata:: Basso
Federico Paulovich:: Batteria
Paolo Colavolpe:: Voci
Genere:
Durata:
44' 48"
Formato:
CD
Data di Uscita:
2010
Etichetta:
Distribuzione:
---
Agenzia di Promozione:
---
Recensione
Secondo album studio per i milanesi Destrage, allettante gruppo nato nell'ultimo decennio, che propone un mix di death metal e thrash metal dai contorni molto rock'n roll.
Il full length è composto da dodici brani molto variegati tra loro, i quali non lasciano mai l'ascoltatore deluso e sopratutto annoiato.
L'intro "Double Yeah" è pazzesco; puro schizo death metal che strizza l'occhio ai connazionali Infernal Poetry, ma che poi si ammorbidisce grazie ad inserti dalla linea vocale più melodica.
"Twice the Price" e "Neverending Mary" presentano un intro più calmo, con rapidi arpeggi chitarristici che si rivoltano in sfuriate più thrashcore. La bellezza di questi pezzi stà nelle parti che si possono definire anche rock melodiche, caratterizzate da melodiosi soli di chitarra e voce pulita a volontà.
Lo screaming è formidabile, urlato, pieno di passione e ricorda tantissimo i Death Angel nel loro ultimo album datato 2010. A dir la verità anche sonoricamente il combo di Milano si avvicina ai più conosciuti filippini.
Il growling invece suona meno originale, ma grazie ai passaggi di death metal americano, attecchisce il cervello con violenza.
Traccia più degna di nota rispetto alle altre è "Smell You Later Fishy Bitch", una vera mazzata di speed metal unito al grindcore più feroce.
Belli anche gli inserti vocali filtrati che conferiscono al lavoro una piega più schizo del normale.

In definitiva bisogna proprio elogiare il lavoro svolto da questi cinque ragazzi, i quali danno l'idea che ognuno di loro abbia una propria concezione di metal nella vita, e unite queste svariate concezioni in una, abbiano creato un vero album studio degno di essere ascoltato da tutti gli amanti del genere metal estremo. Ma la caratteristica che più mi convince, è il loro spirito rock'n roll che risuona nel full length. Spero vivamente che in un prossimo futuro questa formazione dia ancora vita a simili album.
Track by Track
Double Yeah

80

Twice the Price

85

Jade's Place

80

Neverending Mary

80

Back door Epoque

75

Smell You Later Fishy Bitch

90

Collaterar Pleasur

80

Home Made Chili Delicious Italian Beef

85

Tip of the Day

80

Panda vs Koala

80

Wayout

75

Traccia 12

75
Giudizio Confezione
Qualità Audio:

80

Qualità Artwork:

65

Originalità:

80

Tecnica:

80
Recensione di
fabio HC

»
pubblicata il --. Articolo letto
2353
volte.
Articoli Correlati