REALITY GREY: tutto pronto per il nuovo album ''Beneath This Crown'' in uscita il prossimo 7 maggio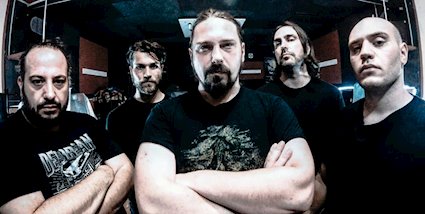 I death metal melodici italiani Reality Grey pubblicheranno il nuovo album "Beneath This Crown" il 7 maggio tramite Blood Blast Distribution alimentata da Nuclear Blast, inoltre la band è gestita da Extreme Management Group. La band è per fan di Soilwork, As I Lay Dying, Scar Symmetry, Lamb of God, Unearth.
"Beneath This Crown" è il terzo full length della band a seguire Define Redemption LP (2014) (Bakerteam / Scarlet Records), Day Zero EP (2008) (Razar Ice Records), Darkest Days Are Yet To Come LP (2006) (Razar Ice Records). La band è stata in tour e ha condiviso il palco con Deicide, Malevolent Creation, Unearth, Sick Of It All, Municipal Waste, Hatesphere, Rotting Christ, Destrage, Necrodeath, Hideous Divinity, Novembre
Di seguito troverai le informazioni e il materiale promozionale, traccia per traccia, angoli della storia (nel promo di Haulix). Mi piace parlare con te della creazione della copertura mediatica (intervista, recensione di album, lungometraggio, trasmissione radiofonica di singoli Multidimensional Hollow, Daybreakers, The Void, The Fury e condivisioni di notizie, premiere, ecc.).
Inserita da:
Wolverine
il 17.03.2021 - Letture:
489
Articoli Correlati
Interviste
Live Reports
Spiacenti!

Non sono disponibili Live Reports correlati.
Concerti
Spiacenti!

Non sono disponibili concerti correlati.
Altre News di MetalWave