Torment «The War They Feed» (2020)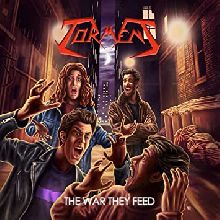 Autore:
Wolverine

»
Recensione Pubblicata il:
03.04.2021
Visualizzazioni:
656
Band:
Torment






Titolo:
The War They Feed
Nazione:
Italia
Formazione:
- Paolo Zippo :: Drums;
- Fabri :: vocals, Guitars;
- Ugo :: Bass;
Genere:
Thrash Metal
Durata:
33' 12"
Formato:
CD
Recensione
Autori di un Ep e di un full lenght e con un prima formazione risalente al lontano 2002, i Torment rilasciano oggi, a cagioni di tormentate vicende riconducibili prevalentemente alla line up, "The War They Feed" un album thrash metal enormemente legato agli anni '80 '90 sia come ispirazione che come contenuti. Il trio, reduce come si accennava da numerosissimi cambi di line up (circa 12), offre nelle nove tracce realizzate un sound semplice e non troppo moderno ma con contenuti che tutto sommato fanno presa, visti anche i richiami a Slayer, Kreator e Venom, su ascoltatori più datati veri appassionati del thrash di un tempo. Andature prevalentemente in mid tempo, colme all'unisono di blast beat e chitarre affilate come lame, danno manforte per superare con un certo dinamismo la mezz'ora abbondante di ascolto senza privarsi anche di accelerazioni di tutto rispetto. Acerba l'apertura di "Power Abuse" dove i suoni rendono subito anche l'idea di cosa ci si aspetta per i successivi brani colmi di forza, dinamica, passione ed energia; anche "Paralysis" offre un lavoro di chitarra di tutto rispetto al pari anche di "The Tunnel" e della successiva "Explode" vera mina vagante dell'album proprio per l'intensità che la caratterizza; "Greed" con il suo rozzo riff d'apertura e un mid tempo antichizzato a dovere fanno tutto il resto al pari della conclusiva "Survival" tipica in apertura dei migliori Kreator di un tempo. Un disco sofferto per le vicende intercorse della band ma complessivamente feroce nei contenuti legati ad un indimenticabile passato.
Track by Track
Power Abuse

75

Nothing to Tell

70

Paralysis

70

The War They Feed

70

The Tunnel

70

Explode

75

Greed

70

Alienation (instrumental)

S.V.

Survival

75
Giudizio Confezione
Qualità Audio:

65

Qualità Artwork:

75

Originalità:

70

Tecnica:

70
Recensione di
Wolverine

»
pubblicata il 03.04.2021. Articolo letto
656
volte.
Articoli Correlati