Torment «Suffocated Dreams (Reissue)» (2013)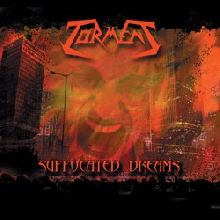 Autore:
FallenAngel

»
Recensione Pubblicata il:
03.11.2013
Visualizzazioni:
1800
Band:
Torment






Titolo:
Suffocated Dreams (Reissue)
Nazione:
Italia
Formazione:
Thrasher - Drums
Fabri - Guitars
Fede - Guitars
Ea - Bass
Ermanno - Vocals
Genere:
Thrash Metal old school
Durata:
35' 1"
Formato:
CD
Recensione
Correva l'anno 2002 quando cinque ragazzi lombardi decisero di formare una cover band thrash metal e ci chiamarla Torment; a distanza di 11 anni i nostri hanno alle spalle due full-lenght e un EP e decidono di rimettere sul mercato proprio il loro primo cd, ormai introvabile, intitolato "Suffocated dreams", autoprodotto e distribuito dalla nostrana Punishment 18 Records.
Fin dalle prime note si intuisce che i Torment non hanno fatto nessun re missaggio del loro vecchio lavoro prima di rimandarlo in ristampa; ci troviamo di fronte a suoni grezzi e ad una registrazione non di certo perfetta che ha il grosso difetto di far perdere una buona quantità dell'energia sprigionata dai vari brani.
La band milanese ci propone un thrash metal duro e crudo senza fronzoli o sperimentazioni di sorta, che riesce ad arrivare direttamente al nostro cervello per dilaniarlo a suon di riff granitici e ritmo di batteria martellante; la sezione ritmica è infatti croce e delizia dei Torment, visto che il sound delle pelli è si preciso e diretto, ma troppo spesso monotono ed estremamente ripetitivo, e il pessimo suono del rullante non aiuta di certo ad apprezzare svariati passaggi che potrebbero essere davvero interessanti.
Detto questo, nel platter possiamo trovare brani come "Never see the light" e "Illusive tranquillity" che, pur seguendo pedissequamente la maggioranza dei cliché appartenenti al thrash metal della Bay Area statunitense degli anni '80, riesce a convincere grazie ad alcuni stacchi di pregevole esecuzione e all'ugola di Ermanno, sempre all'altezza del suo compito.
Questo "Suffocated dreams" è quindi una ristampa dedicata esclusivamente ai fan della band e a tutti i thrasher nostalgici di certe sonorità. È una partenza più che sufficiente per i milanesi Torment, ma un'aggiustata ai suoni in fase di ristampa avrebbe sicuramente aggiunto potenza a dei suoni energici ma spenti al tempo stesso.
Track by Track
Oppressed

65

Mystery Of The Soul

60

In Your Subconscious

65

Never See The Light

70

Pathology

65

Illusive Tranquillity

70

Poisoned Existence

60

Living Mannequin

65
Giudizio Confezione
Qualità Audio:

60

Qualità Artwork:

65

Originalità:

55

Tecnica:

70
Recensione di
FallenAngel

»
pubblicata il 03.11.2013. Articolo letto
1800
volte.
Articoli Correlati