Inchiuvatu «Piccatu» (2004)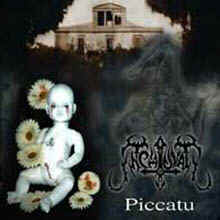 Autore:
The sun of weakness

»
Recensione Pubblicata il:
--
Visualizzazioni:
3054
Data di Uscita:
2004
Etichetta:
Distribuzione:
---
Agenzia di Promozione:
---
Recensione
Ritorna il fautore della scena metal mediterranea, il famigerato Agghiastru è di nuovo tra noi, partorendo finalmente il successore del purtroppo deludente "Viogna" che non era riuscito a bissare la bellezza compositiva dell'ottimo debut "Addisiu". "Piccatu" è il nuovo viaggio dove gli Inchiuvatu ci portano, un concentrato di black death impreziosito da partiture folk e da quel tocco di sinfonico che non guasta. Parlare di ogni singolo pezzo è alquanto riduttivo ma mi limiterò a segnalarvi i migliori, anzi quelli che rendono al meglio il sound di questo album. "Cunsumu" parte come un mid tempo sinfonico per poi velocizzarsi in sfuriate black sinfoniche, ma tutto il pezzo viaggia su velocità diverse alternando sfuriate black a sfuriate death, finchè non si arriva a un intermezzo folk ottimamente riuscito per poi cambiare di nuovo rotta con stacchi death thrash , il tutto comunque ha sempre un andamento black per via dello screaming acido di Agghiastru. "Animacula" invece oltre alle sonorità black death si arricchisce di un intermezzo pulito dove Agghiastru si cimenta anche in vocals pulite per fare spazio ad un cantato femminile che da quel tocco ancora più etereo al tutto, per dare poi sfogo poi di nuovo alla componente folk, che fa da preludio ad un'accellerazione supportata da una tastiera quasi prog nei suoni. "Ciuri sacrificatu" apre le danze con una parte arpeggioata dove s'inserisce la voce pulita doppiata da quella femminile, tutta questa parte poi va sul distorto dando al pezzo un andamento lento dall'impronta black-folk-doom. Come dice il titolo stesso l'argomento principale trattato dall'album è il peccato, prendendo ispirazione appunto dalla Sicilia e le sue tradizioni, ovvio quindi che le canzoni anche questa volta siano tutte cantate in dialetto siciliano. In definitiva un album veramente sopra le righe che incenerisce del tutto il deludente "Viogna" e per certi versi si avvicina alla bellezza di "Addisiu" anche se "Piccatu" risulta più furioso e meno atmosferico a confronto, che dire fatelo vostro!
Track by Track
Lustru (11/07/1975)

70

Cunsumu

80

Piccatu

70

Maleficu

75

Animacula

80

Vattiu

70

Ciuri Sacrificatu

80

Eva

75

Curu'

70
Giudizio Confezione
Qualità Audio:

75

Qualità Artwork:

7

Originalità:

80

Tecnica:

75
Recensione di
The sun of weakness

»
pubblicata il --. Articolo letto
3054
volte.
Articoli Correlati