Homicide Hagridden «Us» (2012)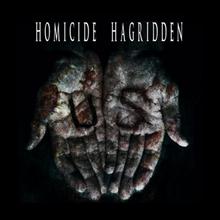 Autore:
carnival creation

»
Recensione Pubblicata il:
--
Visualizzazioni:
1890
Band:
Homicide Hagridden







Titolo:
Us
Nazione:
Italia
Formazione:
Massimo Moda :: Vocals, Guitars
Davide Rou Roch :: Bass
Stefano Moda :: Drums
Genere:
Durata:
31' 18"
Formato:
CD
Data di Uscita:
2012
Etichetta:
Distribuzione:
---
Agenzia di Promozione:
---
Recensione
I torinesi Homicide Hagridden ritornano dopo "Dead Black Sun", primo studio album datato 2004 e seguito soltanto dal demo (il quinto della loro discografia) "Promo D-0" del 2007. I nostri sono attivi niente popò di meno che dal 1994, anno della loro formazione e bisogna dire che hanno tenuto duro finora sebbene con poche pubblicazioni su lunga distanza. Questo "US" rappresenta il secondo album vero e proprio e in una mezzoretta di devastazione sonora perpetua gli Homicide Hagridden ci donano un altro assaggio non indifferente della loro musica.
Si tratta di Thrash Metal crudo e puro di chiarissima scuola Slayer, mai troppo eccessivo nei riff ma dotato di grande mordente ritmico che richiama molto i vecchi pattern di quel Thrash che in fondo non morirà mai finché anche solo una band continuerà a proporlo.
Assolutamente nulla di innovativo né ricercato né sperimentale, siamo lontani anni luce da tutto ciò ma quello che conta è che, all'interno di questa mezzoretta appena passata, la combo piemontese ci dà dentro come noi mai snocciolando un brano tiratissimo dietro l'altro, ricordando gli Slayer e in parte gli Anthrax ok, ma sempre tenendo presente un minimo di personalità che possiamo trovare ad esempio in "Sign Of The Death", traccia di chiusura, fortemente groovy e tecnica nella quale è sempre e comunque la velocità d'esecuzione a fare da padrona indiscussa.
Buone le voci molto "Araya style", forse a volte troppo dentro al pezzo senza emergere quanto a volume ma sempre costantemente avvolte in quell'atmosfera così battagliera da farsi piacere ad ogni costo. Un plauso al Moda dietro le pelli e anche a tutta una serie di soli di chitarra di una precisione millimetrica dissonanti, fulminei e praticamente perfetti nel loro insieme.
"US" è un album carico dall'inizio alla fine ed inebriante per coloro che sapranno apprezzarlo, vale a dire tutte le orecchie che son cresciute col Thrash Metal di fine anni 80 e inizi 90 e che qui troveranno un po' di suono malinconico ovviamente più cristallino nella sua totalità. Infatti anche la qualità con cui il lavoro è presentato è ottima e non lascia spiragli di musi storti.
I nostri sanno quello che fanno, ci mettono tanto a farci sentire la loro musica ma a volte l'attesa ripaga con un buon disco onesto. Ottimo lavoro!
Track by Track
Intro - Last Thinking

65

World Decline

75

Black As War

75

Empty Thoughts

75

The Ones

75

Slaved From Darkness

80

Dimension Zero

80

Ghost Messiah

80

Sign Of The Death

85
Giudizio Confezione
Qualità Audio:

80

Qualità Artwork:

70

Originalità:

65

Tecnica:

85
Recensione di
carnival creation

»
pubblicata il --. Articolo letto
1890
volte.
Articoli Correlati