Kayleth «The Survivor» (2012)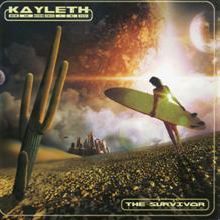 Autore:
carnival creation

»
Recensione Pubblicata il:
--
Visualizzazioni:
2318
Band:
Kayleth




Titolo:
The Survivor
Nazione:
Italia
Formazione:
Enrico Gastaldo :: Vocals
Massimo Dalla Valle :: Guitars
Alezzandro Zanetti :: Bass
Daniele Pedrollo :: Drums
Genere:
Durata:
29' 40"
Formato:
EP
Data di Uscita:
2012
Etichetta:
Distribuzione:
---
Agenzia di Promozione:
---
Recensione
Con "The Survivor", secondo EP di questa nostra vecchia conoscenza, i Kayleth non fanno altro che confermare le buone impressioni che ebbi due anni fa, ai tempi del precedente EP "Rusty Gold".
Lo stile dell'artwork è notevolmente migliorato (opera dello stesso chitarrista Massimo Dalla Valle) e all'impatto dà un'impressione voluta di atmosfere spaziali ma senza tralasciare la componente Stoner/Sludge che definisce profondamente il sound del gruppo fin dai primi demo.
Tolto il discorso copertina –che merita un pensiero a sé- ciò che è cambiato nei nostri non è pressoché nulla ed è un bene debbo aggiungere poiché in questo modo il loro stile personale di affrontare piccole sperimentazioni nell'insieme si è mantenuto saldo alla proposta senza somigliare direttamente a niente di già noto.
Certo, nella title-track "The Survivor" (il cui bel video lo potrete trovare facilmente a questo indirizzo youtu.be/SN1z5vFUoqM ) i richiami al mondo dei Black Sabbath appaiono ovvi come i cactus nei deserti della West Coast. Ovvi sì ma non scontati, alla band interessa promuovere la loro musica in modo onesto ed in modo onesto questa è espressa in tutto il platter.
Buona soprattutto "In Front Of You", brano più ragionato e leggermente psichedelico; nella mezzoretta scarsa di "The Survivor" non si stravolge pressoché nulla né si azzardano cambiamenti repentini che non superano quel fuzz continuo di chitarra, quei bassi profondi e quella batteria a volte sporca a volte no ma sempre e comunque precisa mentre voci tipicamente 70's espletano un continuo tributo al mondo del rock vecchio, attempato e quindi, a mio avviso, migliore.
Interessante la personificazione di "The Nile Song", cover dei Floyd come traccia di chiusura. Lì per lì ho fatto una smorfia ma l'ascolto mi ha premiato: semplice e tranquilla senza troppo osare (avrebbe rovinato tutto in effetti).
In definitiva, i Kayleth continuano a convincere. Magari qualche piccolo passo in più in futuro (un bel full-lenght bello ragionato ad esempio) non sarebbe male ma per ora non ci possiamo lamentare.
Track by Track
Anvil

60

Desert Caravan

65

The Survivor

70

Waterfall

65

In Front Of You

80

The Nile Song (Pink Floyd Cover)

75
Giudizio Confezione
Qualità Audio:

75

Qualità Artwork:

75

Originalità:

60

Tecnica:

70
Recensione di
carnival creation

»
pubblicata il --. Articolo letto
2318
volte.
Articoli Correlati