Kayleth «Rusty Gold» (2010)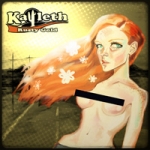 Autore:
carnival creation

»
Recensione Pubblicata il:
--
Visualizzazioni:
1721
Band:
Kayleth




Titolo:
Rusty Gold
Nazione:
Italia
Formazione:
Enrico Castaldo :: Vocals
Massimo Della Valle :: Guitars
Alessandro Zanetti :: Bass
Daniele Pedrollo :: Drums
Genere:
Durata:
23' 53"
Formato:
EP
Data di Uscita:
2010
Etichetta:
Distribuzione:
---
Agenzia di Promozione:
---
Recensione
Dopo "Not Yet" e "Om The Womb Of Time", rispettivamente due demo all'attivo, i nostri cari amanti dello Stoner Rock "Kayleth", italianissimi, ritornano sulla scena italiana (e a quanto pare anche americana grazie alla casa distributrice Quickstar Production che li ha scelti per inserirli nella sua compilation "Rock 4 Life Vol.23") con un nuovo EP dal titolo "Rusty Gold" in cui i nostri amici riescono facilmente a trapiantarci per una mezzoretta scarsa in quel del New Mexico, South California, Texas e compagnia bella, in cui le lunghe superstrade assolate, gli sporadici, vissuti e sporchi benzinai, il caldo e qualche verdognolo catcus fanno da background per quello che sembra essere fin dai primi 2 secondi di play una sonorità dalle atmosfere rock, di quel rock vero e attempato il quale tuttavia ci riesce ancora oggi a regalare emozioni.

Dotati di una eccezionale personalità nonostante non si siano inventati pressochè nulla, i nostri non mancano di avvolgenti momenti di psichedelia, sfumature di "Space Rock" direttamente dai 80's e buone marcature Doom ma sempre sottoponendosi a miglioramenti e alla ricerca musicale.
Discreto il lavoro in sé per sé, una produzione buona e dotata di un mixing audio veramente soddisfacente e tecnicamente ineccepibile a volte tendente anche allo Sludge e ad un embrionale Grunge.
Interessanti i riff e i richiami a band come Orange Goblin, Kyuss, i Queens Of The Stone Age del capolavoro "Songs For The Deaf" ma anche i grandi Fu Manchu.
Dategli una possibilità. Meritano!
Track by Track
The Electric Tongue Is Coming

65

Rusty Gold

70

Deepest Shadow

80

Oops, I Eat You

65

Old Men's Legacy

70
Giudizio Confezione
Qualità Audio:

70

Qualità Artwork:

60

Originalità:

60

Tecnica:

70
Recensione di
carnival creation

»
pubblicata il --. Articolo letto
1721
volte.
Articoli Correlati