Soul Of Steel «Destiny» (2010)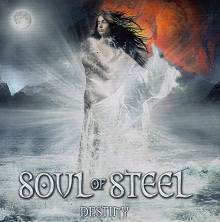 Autore:
carnival creation

»
Recensione Pubblicata il:
--
Visualizzazioni:
2035
Band:
Soul Of Steel




Titolo:
Destiny
Nazione:
Italia
Formazione:
Gianni Valente - Vocals
Nicola Caroli - Guitars
Valerio De Rosa - Guitars
Nicola Logrillo - Bass
Daniele Simeone - Keys
Lorenzo Chiafele - Drums
Guests:
Roberto Tiranti - additional vocals (track 07)
Genere:
Durata:
42' 2"
Formato:
CD
Data di Uscita:
2010
Etichetta:
Distribuzione:
---
Agenzia di Promozione:
---
Recensione
Dopo la demo "ReBorn" del 2007, ecco che ci ritornano gli italiani Soul Of Steel. Il loro power farà sicuramente felici tutti gli adepti al "buon canto" ed agli appassionati degli assoli di chitarra in puro stile heavy-power metal ed ha fatto un po' meno felice me.
In primo luogo non mi è parso fin da subito convincente dal punto di vista ritmico, troppi errori, troppi "fuori tempo" che coinvolgono prevalentemente la sfera della batteria e in qualche punto anche le chitarre. Il basso praticamente inesistente ed una tastiera imprecisa e con suoni ancora da migliorare di certo non potenziano nulla, anzi abbassano qualitativamente le ottime e riuscitissime linee vocali del singer, il quale per tutta la durata del disco (poco più di quaranta minuti, troppo poco per un disco di questo calibro) dimostra di sapere il fatto suo e non cede nemmeno un momento alla mediocrità, non avendo poi molto da invidiare all'ospite d'onore in traccia sette, niente popò di meno che Roberto Tiranti direttamente dai Labyrinth (su quest'ultimo c'è poco da dire, la fama parla per lui da sempre in fatto di voce).
Ho avuto la possibilità di dividere il disco in due parti distinte. La prima, più imprecisa, decisamente da riguardare, mi fa pensare che la band abbia fatto il passo più lungo della gamba in quanto a originalità e soprattutto tecnica ma dal brano "Wild Cherry Trees" in poi i nostri è come se cambiassero atteggiamento in modo tutto sommato buono sfoderando una buonissima ballad (appunto "Wild Cherry Trees") ed altre tracce esenti dall'essere scarse a mio avviso. Per ora posso dire che di strada i Soul Of Steel ne hanno da fare ancora molta e non è certo in discesa, ma il mio giudizio per ora è in pausa e, considerando che si tratta del primo disco, posso anche comprendere gli errori propri di una band giovanissima, attendo del materiale futuro per meglio definire il mio pensiero sul loro operato.
Track by Track
Intro

45

Swordcross

50

Running In The Fire

55

Reborn

50

Wild Cherry Trees

70

Till The End Of Time

65

Endless Night

60

Wings Of Fire

60

Destiny

60
Giudizio Confezione
Qualità Audio:

60

Qualità Artwork:

60

Originalità:

55

Tecnica:

55
Recensione di
carnival creation

»
pubblicata il --. Articolo letto
2035
volte.
Articoli Correlati