Warmblood «Timor Mortis» (2010)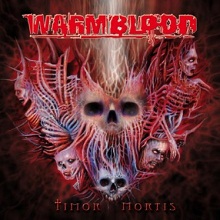 Autore:
carnival creation

»
Recensione Pubblicata il:
--
Visualizzazioni:
1724
Band:
Warmblood


Titolo:
Timor Mortis
Nazione:
Italia
Formazione:
Giancarlo Capra :: Vocals, Guitars
Davide Mazzoletti :: Guitars
Elena Carnevali :: Drums
Guests:
Marco Lari :: Additional Vocals On Tracks 2, 9 And 10
Elena Carnevali :: Additional Vocals On Track 10
Dany Malefic :: Cello On Track 8
Genere:
Durata:
39' 29"
Formato:
CD
Data di Uscita:
2010
Etichetta:
Distribuzione:
---
Agenzia di Promozione:
---
Recensione
A due anni di distanza da "Necrosmos Destination", disco di debutto dei laudensi Warmblood ce li ritroviamo qui sulla scrivania con un altro lavoro dal titolo severo di "Timor Mortis", un disco Death non eccessivamente originale e dalle sonorità piuttosto scarne nonostante il gran da fare nei riff.
Dalle dinamiche tendenti un po' troppo al "tupa.-tupa" i nostri sono tuttavia riusciti a confezionare un lavoro che sa farsi ascoltare e piacere agli amanti del genere ed a possibili neofiti anche se, personalmente, ho trovato Timor Mortis un po' stereotipato come prodotto, soprattutto nel 2010, e credo che materiale simile -in certi casi anche migliore- lo si possa trovare in dischi storici i quali ritengo che abbiano poche motivazioni di essere ritirati fuori da altri gruppi sotto forma di influenze, ma sono solo opinioni personali, nulla di cui fare legge naturalmente.

I ritmi che ho trovato in questo disco mi paiono troppo ripetitivi e arrivano alla noia dopo circa due pezzi, inoltre i fill sono inesistenti e ho trovato solo pattern standard in modalità martellante mentre invece la chitarra e il basso si danno in gran da fare e tirano fuori dei riff e delle ritmiche interessanti. Ottime invece le voci, gutturali e abissali.
Ritengo sia un disco riservato solo a chi non ne può fare veramente a meno.
Track by Track
Intro

70

The Ghoulish Doctor

55

Living Dead Superstition

55

Sacred, Puritan Scenario

50

Sea Of Darkness

60

Lost In The Beyond

50

Revenge From A Comatose State

60

Timor Mortis

60

Underwater Zombie

55

Among The Living Dead

60
Giudizio Confezione
Qualità Audio:

70

Qualità Artwork:

70

Originalità:

50

Tecnica:

65
Recensione di
carnival creation

»
pubblicata il --. Articolo letto
1724
volte.
Articoli Correlati