Azure Agony «Beyond Belief » (2010)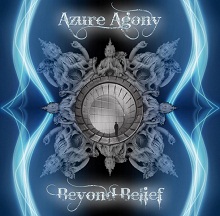 Autore:
carnival creation

»
Recensione Pubblicata il:
--
Visualizzazioni:
2122
Band:
Azure Agony







Titolo:
Beyond Belief
Nazione:
Italia
Formazione:
Gabriele Pala :: Guitar
Marco Sgubin :: Keys
Marco Firman :: Bass
Carlo Simeoni :: Drums
Guests:
Giorgio Marcossi :: Flute
Anna Marcossi :: Cello
Genere:
Durata:
50' 10"
Formato:
CD
Data di Uscita:
2010
Etichetta:
Distribuzione:
---
Agenzia di Promozione:
---
Recensione
Con l'estate appena iniziata e con il caldo delle giornate arrivano anche band che non ti aspetteresti mai con tutto questo clima di assopimento musicale generale.
Una band tra le poche arrivate sono i nostrani Azure Agony, direttamente da Udine per tutti gli amanti di un genere che tutto sommato è anche un po' di nicchia ma che viene indistamente apprezzato anche da un pubblico che non macina solo Progressive.
E appunto di Progressive parliamo -rock e metal- che prende sonorità adiacenti a gruppi come i Dream Theater strumentali a tratti e si rifà anche a vecchie e storiche realtà del Progressive Rock degli anni 70 e 80 unendo sperimentazioni moderne e non generando per l'appunto qualcosa di particolare che in questi anni non si era praticamente mai visto.
Di gruppi che propongono un progetto puramente strumentale non ce ne sono molte e ho avuto l'occasione di ascoltarmi materiale tutto uguale con patterns e stereotipi da far annoiare anche il più sfegatato fan del genere.
I nostri invece hanno saputo trasformare le loro idee in realtà e, avvalendosi di strumentazioni idonee (nonché di bravi e capaci guests) e di una dose non indifferente di professionalità, hanno sfornato qualcosa di veramente valido che è appunto "Beyond Belief".

Tracce come la maestosa "Mystic Interiors", la movimentata "Terror Haza" e il capolavoro del disco "The Temple Of Vandora" con le sue bellissime atmosfere evanescenti, dissolte ed eteree, sono le tre perle del disco ma non credete che gli altri brani siano da meno anzi! La soggettività del momento mi ha portato ad affermare questo poiché mi trovo ad essere "vagamente" di parte quando si parla di gruppi Progressive Metal seri.
Buona la produzione, buonissima la resa e l'impatto nonché eccellente è senz'altro l'interpretazione di ogni singolo fraseggio, assolo e quant'altro, inoltre -cosa che non tutti notano- gli Azure Agony hanno dei gran suoni!
Track by Track
Awareness

70

Mystic Interiors

75

Terror Haza

80

The Temple Of Vandora

90

Ante Tentora

85

Across Elysian Fields

80

The Fall Of The Vector

70

Secret Gateway

70

The Last City

70
Giudizio Confezione
Qualità Audio:

75

Qualità Artwork:

60

Originalità:

80

Tecnica:

80
Recensione di
carnival creation

»
pubblicata il --. Articolo letto
2122
volte.
Articoli Correlati